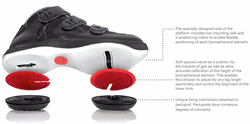 New York, NY (PRWEB) August 18, 2015
Apos therapy is a system based on redistributing weight in order to treat joint disease and relieve pain. APOS stands for All Phases of Step Cycle, and as the name suggests the patient is treated using the natural biomechanical movements, such as walking. The trick is to realign the body as it walks and induce controlled instability. This significantly reduces pain and stabilizes joints.
The technology is quite simple; the system is a set of Apos shoes with special biomechanical plates mounted to the sole of each shoe. These plates are adjusted in order to provide the necessary level of misalignment and help the body properly distribute weight.
The treatment consists of several stages. The first stage is analysis and evaluation of the root and severity of joint pain. NYDNRehab utilizes numerous gait analysis tools to accurately assess the injury or disease and define the appropriate treatment method. During the initial consultation Apos therapist will conduct numerous tests and calibrate the biomechanical shoes accordingly. The next stage is treatment itself, the patient needs to wear the Apos shoes once a day for roughly an hour depending on the treatment program schedule. The beauty of the system is that it allows patients to lead the lifestyle they are used to without tedious exercise and endless visits to the rehab center that often accompany physical therapy. Periodic consultations with the therapist provide the necessary oversight and adjustments to the treatment.
Apos therapy is especially effective in cases when it is necessary to decrease the weight burden (joint overload) on the lower body joints and reestablish neuromuscular control. Apos therapy effectively treats joint diseases like osteoarthritis, osteochondrosis but is also suitable for knee injuries like ligament tears and even fractures. The ease of use often makes it suitable for people of all age groups and occupations. Whether you are an amateur athlete recovering from a lower body injury or a senior citizen with chronic knee pains Apos therapy is the perfect remedy to help relieve pain and actually treat the disorder.
NYDNRehab is one of the few clinics to offer this innovative technology in New York City. We provide the full cycle of analysis, evaluation, treatment and rehab for all kinds of biomechanical disorders. Whether it's injuries, traumas or diseases our lab is equipped with the latest medical technologies to make sure that patients get all the proper treatment.