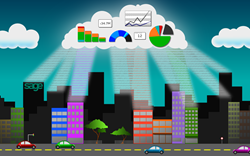 Business intelligence software without data is like a nice car without gasoline. It looks good but gets you nowhere
Buford, GA (PRWEB) August 26, 2015
Companies that use Sage 50 will soon be able to access reports and anaylsis from anywhere with Suntico's integration to Microsoft PowerBI.
Date: 28th August 2015
Time: 13:00 EDT
Google Hangout on Air
In this Google Hangout on Air, attendees will learn about the only cloud-based business intelligence solution that links automatically and easily to Sage 50.
Customers do not need to worry about exporting files from Sage 50 to Microsoft PowerBI, and the data will always be up to date. Ready-made reports mean that the customers will be able to implement a connected cloud business intelligence solution for their own business data in as little as 15 minutes.
The solution is the result of a partnership between Suntico and GoPowerBI that is aimed at delivering powerful out of the box cloud-based business intelligence for companies that use popular accounting software.
In the Hangout on Air, there will be an overview of how the solution works followed by a brief preview and an invitation for the audience to participate in a beta program.
"Business intelligence software without data is like a nice car without gasoline." says Hugh Johnson, SVP Business Development at Suntico. "It looks good but gets you nowhere."
Cloud-based business intelligence products like Microsoft PowerBI have the advantage of being accessible from anywhere via the web and through the native PowerBI app for smartphones and tablets. They do however present a challenge to connect to common data sources like Sage 50. Suntico solves that problem through its proprietary connector infrastructure on-premises accounting software.
About Suntico:
Suntico is an online account management system and financial data platform. It includes a Facebook-like interface that is very easy to use as well as an open developer API for data access. It links seamlessly to Sage 50 Accounting US (formerly Peachtree).
For more information visit the Suntico website at https://www.suntico.com