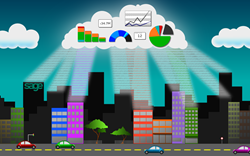 This free beta program gives customers the chance to experience Microsoft PowerBI with their own Sage 50 data
Buford, GA (PRWEB) August 19, 2015
With the new Suntico PowerBI solution, companies that use Sage 50 Accounting (US Edition) can be up and running with Microsoft PowerBI in as little as 15 minutes. Any company that is interested in participating in a free beta of this solution connected to their own data can register their interest now.
The new Suntico PowerBI solution will deliver powerful out of the box cloud-based business intelligence. "We are taking advantage of the fact that if you use Sage 50, then we know your data structures. We are creating the only cloud-based business intelligence solution that links automatically and easily to Sage 50, ready to go" says Hugh Johnson, SVP Business Development at Suntico.
With a live connector service linking Microsoft PowerBI to Sage 50, customers will not need to worry about exporting files from Sage 50 to Microsoft PowerBI, and the data will always be up to date. Ready-made reports will mean that the customers will gain immediate benefit from the solution.
To get started all that is needed is to download and install the Suntico connector for Sage 50 and link the company's Suntico account to a Microsoft PowerBI account. "This free beta program gives customers the chance to experience Microsoft PowerBI with their own Sage 50 data". continues Hugh.
The service will be available soon for companies that use Sage 50 Accounting (US Edition). Other accounting software packages such as Sage 50 Accounting (Canadian Edition), Sage 50 Accounts (UK/Irish Editions) and QuickBooks will follow shortly.
Companies are invited to register their interest now on the Suntico website at: https://www.suntico.com/powerbi/
About Suntico:
Suntico is an online account management system and financial data platform. It includes a Facebook-like interface that is very easy to use as well as an open developer API for data access. It links seamlessly to popular accounting software including Sage 50 Accounting US (formerly Peachtree).
For more information visit the Suntico website at https://www.suntico.com