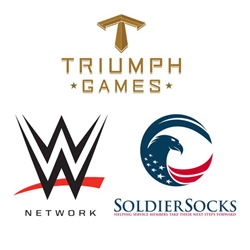 "Thanks partnerships like WWE, we'll be able to let millions know that their donations go to help injured veterans take their first steps forward." said Chris Meek, founder and CEO of SoldierSocks
Philadelphia, PA (PRWEB) August 18, 2015
The Triumph Games (http://www.2015triumphgames.com); and SoldierSocks (http://www.soldiersocks.org) today announced a partnership with global entertainment company WWE that will promote stories of successful military veterans and create awareness for Soldier Socks, a non-profit dedicated to helping injured veterans take their next steps.
The Triumph Games will showcase the athletic excellence of 12 military veterans, who will compete in three rounds of competition, including a triathlon, e-sports and motorsports. The live games will be held from August 24-29 in New York, with a television special set to air on NBC Sports Network in October. The program will be co-hosted by Al Roker, of NBC, and Patrick Murphy, anchor of MSNBC's Taking the Hill.
WWE will utilize its global platforms including digital and social media, and live events, to generate awareness and support for the 2015 Triumph Games while also promoting the success of these veterans.
WWE has a long history of supporting the military through its annual Tribute to the Troops event, as well as partnerships with Hire Heroes USA, a non-profit focused on creating job opportunities for military veterans and their spouses through personalized employment training, and USO Metro, where WWE Chief Brand Officer Stephanie McMahon serves on its Board of Directors.
"We are thrilled to partner with WWE," said Mary L. Hagy, Co-Founder and CEO of the Games. "WWE's passion for supporting the military, combined with its extraordinary social media engine, enables us to reach millions of Americans who need to hear the stories of these successful veteran athletes. Some earned Gold Medals in Sochi and all have medaled nationally or internationally in their sports. We are proud to welcome these athletes to the Triumph Games."
The partnership will benefit SoldierSocks, an official veterans service organization partner of the 2015 Triumph Games. Proceeds raised from event sponsors and the public will support SoldierSocks' programs, which have already given over 20,000 severely injured and paralyzed veterans access to life changing advanced medical devices.
Chris Meek, founder and CEO of SoldierSocks, said, "Thanks to the huge voice given to us by the 2015 Triumph Games and unique partnerships, like WWE, we'll be able to bring our message before millions, letting them know that because SoldierSocks has one of the lowest overhead ratios in fundraising, a remarkable 94% of their donations go to help injured veterans take their first steps forward."
"It's a privilege to partner with the first-ever Triumph Games and use WWE's global reach to tell the incredible stories of 12 courageous military veterans and competitors," said Stephanie McMahon, WWE Chief Brand Officer. "WWE has a longstanding commitment to the military and we are proud that this partnership will also raise awareness and funds for SoldierSocks, providing support to our nation's heroes after the sacrifices they have made on behalf of our country."
Stay tuned to the Triumph Games® Facebook page, on Twitter @TriumphGames15, Instagram @TriumphGames and http://www.2015TriumphGames.com for updates and competition announcements.
About WWE:
WWE, a publicly traded company (NYSE: WWE), is an integrated media organization and recognized leader in global entertainment. The company consists of a portfolio of businesses that create and deliver original content 52 weeks a year to a global audience. WWE is committed to family friendly entertainment on its television programming, pay-per-view, digital media and publishing platforms. WWE programming reaches more than 650 million homes worldwide in 35 languages. WWE Network, the first-ever 24/7 over-the-top premium network that includes all 12 live pay-per-views, scheduled programming and a massive video-on-demand library, is currently available in more than 175 countries. The company is headquartered in Stamford, Conn., with offices in New York, Los Angeles, London, Mexico City, Mumbai, Shanghai, Singapore, Dubai, Munich and Tokyo. Additional information on WWE (NYSE: WWE) can be found at wwe.com and corporate.wwe.com. For information on our global activities, go to http://www.wwe.com/worldwide/
About Soldier Socks
SoldierSocks is committed to helping post-9/11 injured veterans take their next steps forward by making available cutting-edge medical device technology in advanced rehabilitation. Already, SoldierSocks has given over 20,000 severely injured and paralyzed veterans access to life changing advanced medical devices. SoldierSocks also helps veterans by providing scholarship opportunities at some of America's finest universities, colleges and trade schools. SoldierSocks is a 501(c)(3) not-for-profit, founded in 2009.
About OurVetSuccess
OurVetSuccess, producer of the Triumph Games, is dedicated to increasing positive public awareness of successful military veterans. By working together with businesses and leveraging the media to share success stories, OurVetSuccess is changing the public perception of the US veteran population to one of not only honor, but also leadership and success.