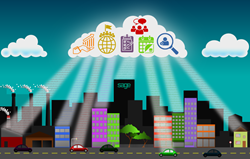 Integrating your app to Sage 50 just go a whole lot easier
Buford, GA (PRWEB) August 21, 2015
A common problem faced by many Sage 50 Accounting (US Edition) developers is how to maintain compatibility between their software and Sage 50 as it is updated.
The new Sage 50 API from Suntico solves this problem. Instead of connecting directly to Sage 50 through the software's software development kit (SDK), developers will be able to use a new web API service from Suntico.
This achieves a number of things for a developer.
Firstly, as a modern web-service API, the Suntico interface is very easy to work with and familiar to today's web developer.
Secondly, for any developers wanting to link their web or mobile app to Sage 50, Suntico's web service API makes this much easier that connecting to the desktop Sage 50 Accounting software.
Finally, connectivity to Sage 50 is maintained automatically by the Suntico connector infrastructure. This isolates the developer from any concerns about the local Sage 50 configuration. It even protects the developer from having to worry about updates or upgrades to Sage 50. The Suntico connector service looks after this automatically.
The Suntico web API service will be compatible with the following Sage 50 Accounting (US Edition) versions: 2013, 2014, 2015, 2016 and all incremental updates within these versions.
Use of the Suntico web API for Sage 50 is free for developers. It is currently on limited release to a small number of developers and a full beta will be available shortly.
Any developer interested in participating can register their interest here: https://www.suntico.com/sage-50-api/
About Suntico:
Suntico is an online account management system and financial data platform. It includes a Facebook-like interface that is very easy to use as well as an open developer API for data access. It links seamlessly to Sage 50 Accounting US (formerly Peachtree).
For more information visit the Suntico website at https://www.suntico.com