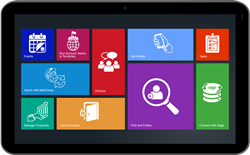 In today's business world, it is all about the data
Buford, GA (PRWEB) August 31, 2015
In September, Suntico is getting a complete revamp with many exciting new features and capabilities. The first to benefit will be companies that use Sage 50 Accounting (US Edition).
The new Suntico offering incorporates a completely new Account Management app, a financial data platform with support for developers to integrate their apps with accounting data and a re-designed connector architecture for linking with on-premises accounting software.
The new Suntico Account Management solution is aimed primary at manufacturers and wholesalers who do a lot of repeat business with existing clients and often use independent sales reps. The solution breaks down communication barriers between mobile sales reps and head office. It includes a Facebook-style social overlay to a company's business records with To Do, Tasks, Messaging, Timeline, Calendar and Walls linked to the underlying customer and transaction records.
An API (application program interface) will enable 3rd Party developers to gain full read and write access to the business accounting data. This provides developers with an easy way to link their apps to on-premises accounting software and ensures that clients can retain a fully integrated system.
The new connector architecture and financial data platform will support tight integration with a wide range of accounting software products, starting with Sage 50 Accounting (US Edition). It will be able to support very large record sets for customers with many tens of thousands of invoices.
"I am really excited about the possibilities that are presented by our financial data platform," says Hugh Johnson, SVP Business Development at Suntico. "In today's business world it is all about the data, and making sure that it is available to those who need it to serve their customers."
Anyone that registers for access to the Suntico demo account on the company's website will be invited for early access to try the new Suntico solution connected to their own Sage 50 Accounting data. There will be no charge for this trial period or or any assistance in setting up the connection to Sage 50.
About Suntico:
Suntico is an online account management system and financial data platform. It includes a Facebook-like interface that is very easy to use as well as an open developer API for data access. It links seamlessly to Sage 50 Accounting US (formerly Peachtree).
For more information visit the Suntico website at https://www.suntico.com