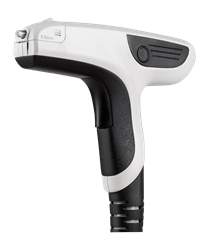 With the release of the V-Nd:YAG handpiece, Viora fulfills its commitment to practitioners in providing a true multi-technology platform in the V30, allowing them to expand their practice, when they choose to
Jersey City, NJ (PRWEB) August 18, 2015
Viora, a leading medical aesthetics solutions provider, is excited to announce Viora's entry into the laser arena with the release of the V-Nd:YAG handpiece, to be used with the V30 multi-technology platform. Powered with Viora's proprietary PCR™ technology, the V-Nd:YAG handpiece is a significant enhancement to the V30, allowing the treatment of vascular lesions, skin rejuvenation and focused hair removal. Viora's YAG handpiece offers practitioners a cost-effective solution to these symptoms, while delivering the most robust solution available in a platform system today.
The V-Nd:YAG handpiece is the only platform solution offering four different spot sizes (2x4mm, 3.5mm and 5.5mm for vascular lesions, and 9.5mm for skin rejuvenation and focused hair removal for darker skin patients). Viora's proprietary PulseConfiguRhythm™ (PCR) technology allows varied pulse structures designed for safe, personalized treatments, for the highest efficacy possible. With integrated contact cooling, the V-Nd:YAG handpiece is the smartest, cost-effective Nd:YAG solution on the market today.
When the V-Nd:YAG handpiece is coupled with Viora's leading V-IPL handpiece, practitioners have a truly complete solution for vascular lesions, hair removal and skin rejuvenation, allowing the treatment of all skin types, for face and body. Further, the V-ND:YAG handpiece is a component in several unique combination protocols developed by Viora. These produce stellar, non-invasive results when used with Viora's V-ST or V-FR* handpieces, designed to enhance physicians' treatment menus.
"With the release of the V-Nd:YAG handpiece, Viora fulfills its commitment to practitioners in providing a true multi-technology platform in the V30, allowing them to expand their practice, when they choose to," said Eliran Almog, CEO, Viora. "Viora's technological advancements in PCR™ technology deliver a new alternative to physicians looking to include laser into their clinics."
About the V30 multi-technology platform
The V30 by Viora is a multi-technology platform that allows customers access to the most innovative and effective non-invasive treatments available. The V30 platform houses a strong foundation of different technologies – proprietary PCR™ for light-based technologies (IPL & Nd:YAG), CORE and SVC™ RF – that enable practitioners to offer multiple applications to clients. With each technology accessible via a different hand piece, Viora provides physicians greater flexibility as they can expand their treatment menu when it's convenient for them. Viora capitalizes on the advanced and proprietary technology within V30 by delivering effective results quickly, safely, with minimal pain and with little to no downtime. The depth and power of V30 is evident in Viora's unique combination protocols specially developed to produce superior clinical outcomes for a multitude of applications including skin tightening, body & facial contouring, skin rejuvenation, skin resurfacing, hair removal, acne clearance, stretch mark reduction, vascular and pigmented lesions, cellulite reduction, hyperpigmentation, and reduction of fine lines & wrinkles.
About Viora
Celebrating its 10 year anniversary, Viora is an award-winning medical aesthetics solutions company that's established in over 60 countries. Viora's skilled and knowledgeable clinical and technical teams, working with clinicians around the world, have produced innovative, proprietary technologies such as CORE, SVC™ and PCR™. These technologies have revolutionized non-invasive treatments to improve control and increase opportunity for practitioners, while enhancing patient experience in numerous applications. Viora's in-house expertise has been at the forefront of implementing new developments in response to market demand, improving upon treatments using existing RF and light technologies. Viora builds time machines, so our customers can shape their future.
*The V-FR handpiece is not available in the US.