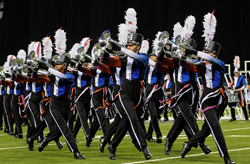 Record-setting attendance across the country throughout Drum Corps International's 2015 Summer Tour is a solid demonstration of staunch support for performing arts as an outgrowth of excellence in arts education.
Indianapolis, IN (PRWEB) August 20, 2015
Following an incredible record-setting national tour, Drum Corps International (DCI) ended the season with the highest paid attendance in Indianapolis at the World Championship Finals. "Marching Music's Major League" posted record numbers in city after city and state after state throughout the 2015 DCI Summer Tour, demonstrating solid support for excellence in performing arts education.
The record-setting pace began with a swing through Texas, Tennessee, Georgia, and then on up to Pennsylvania on the road to the DCI World Championship Finals. The 3-day event August 6-8 at Lucas Oil Stadium in Indianapolis saw attendance surge by thousands over 2014.
After several years of steady growth, attendance at competitive events throughout summer showed a stunning increase. Long-established regional events in San Antonio and Atlanta, as well as major competitions in the Dallas, Houston, and Nashville areas, saw escalating numbers of more than 11% growth when compared to previous years.
Paid attendance soared as the Texas tour totaled more than 30,000 with 12,000+ in San Antonio alone. Elsewhere, the audience numbers came close to 11,000 in Tennessee, exceeded 18,000 in Atlanta, and reached nearly 16,000 at the two-day Eastern Classic in Allentown, Pennsylvania.
The exceptional statistics throughout the season led perfectly into the 3-day finals in Indianapolis where a record-setting 22,085 fans reveled in an electrifying finish at the Saturday night finals – up an incredible 18.7% over 2014. The 3-night combined paid attendance was up 16.3% over 2014 and each of the three nights were individually the highest paid attendance for that night of the competition – records all around.
Drum Corps International Executive Director and CEO Dan Acheson explained, "Record-setting attendance throughout the season is an unmistakable sign of ever-increasing awareness of music education's importance and growing support for performing arts across the country. The extraordinary young people participating in our DCI Summer Tour are shining examples of the very best attributes of what performing arts have to offer. Their talent, drive, and dedication to excellence are a demonstrable result of their outstanding training in arts education."
Acheson added, "Drum Corps International is also proud to work together with arts educators in communities across the country and around the world to inspire the pursuit of excellence in an even larger number of aspiring musicians, performers and student leaders."

Drum Corps International is the world leader in producing and sanctioning competitive events for the world's most elite and exclusive touring marching music ensembles for student musicians and performers. For additional organization and program information, visit http://www.dci.org.
Contact: Barbara Nash – bfnash1(at)gmail(dot)com, 256.656.7039