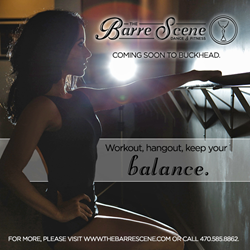 "Our classes provide a great way to get in shape, but The Barre Scene will be a place that you'll want to hang out, socialize and relax, as well." -Katherine Akra
ATLANTA, GEORGIA (PRWEB) August 18, 2015
A new, unique dance and fitness studio is coming soon to the Buckhead Atlanta shopping district in the Buckhead area of Atlanta. Called The Barre Scene, the studio was founded by former professional dancer Katherine Akra, and aims to provide a new take on barre and dance-inspired fitness classes.
When the studio opens in early September, it will offer a variety of classes that will allow members to mix up the perfect workout regimen. The menu includes signature class HIIT the Barre-- a workout unlike a typical barre class that combines dance moves with High Intensity Interval Training techniques; Barre Brawl-- an upper body and cardio workout that's done with weighted boxing-style gloves and body weight exercises to uptempo music, and Vixen Workout-- a full-body cardio dance workout started by former dancer Janet Jones that's being brought to Atlanta for the first time ever by Akra.
"With this new studio, my goal is to create an environment where people can get fit while having fun and enjoying themselves," said Akra. "Our classes provide a great way to get in shape, but The Barre Scene will be a place that you'll want to hang out, socialize and relax, as well."
The studio's classes will all incorporate music to build an active and energetic environment. The classes will also vary in intensity, as well as style. "The best thing about the barre and dance classes we will offer is that they're ideal for all types of people," continued Akra. "Whether fitness classes are already part of your routine, or you're eager to find a new exercise plan that you truly love, The Barre Scene has something that will make you truly look forward to your workouts."
Akra will be teaching classes at the new studio, as will Kristina Fitzpatrick, trained dancer and current on-air reporter for FoxSports South's coverage of the Atlanta Braves.
In the coming weeks, those who are interested in signing up will have an exclusive opportunity to do so at a discounted Founders' Rate. The studio will be located at 325 E. Paces Ferry Rd. NE in Atlanta. Learn more about The Barre Scene and its opening details at TheBarreScene.com.
ABOUT THE BARRE SCENE
The Barre Scene, founded by former professional dancer Katherine Akra, is a dance and fitness studio that mixes fitness and fun for a unique approach to staying healthy. Offering an array of classes that blend barre exercises with dance and cardio, it provides people of all types with a place to work out, socialize, and find their balance. It's located in the Buckhead Atlanta shopping district, and will open in early September 2015. Visit TheBarreScene.com to learn more.