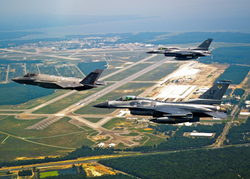 There is nothing more important than ensuring Eglin AFB's operations and training missions are not delayed due to compliance-related issues
Pasadena, MD (PRWEB) August 20, 2015
LRS Federal (LRS), a Maryland-based engineering and construction company, was awarded a $9.8M contract to provide environmental compliance services at Eglin Air Force Base in Florida. The Air Force Civil Engineer Center awarded this contract to provide environmental operations and services to support the Air Force Environmental Quality program. LRS is partnered with two leading federal contractors, Leidos and Navarro, in executing this contract.
Eglin Air Force Base (AFB) is home to the 96th Test Wing and encompasses 464,000 acres of land and 120,000 square miles of water ranges. The Test Wing and its 40 associate units accomplish their mission while coexisting with 106 rare and endangered plant and animal species found in 34 distinct ecosystems. More than 227,000 acres of Eglin's reservation are open for recreation to 16,000 military personnel, 15,300 civilian employees, 72,000 family members and retirees, and the general public.
The scope of this five year contract requires LRS Federal to provide a full range of environmental compliance activities throughout Eglin AFB, including the ranges in the Gulf of Mexico and the Florida panhandle. These activities include operations and services for hazardous waste management, recycling, permitting, data management, pollution prevention, air quality, waste water, stormwater, surface and ground water, natural resources, natural infrastructure assessment and environmental management systems.
"We appreciate the Air Force's show of continued confidence in LRS Federal's people and our exceptional teaming partners," said Tom Scott, LRS Federal President. "There is nothing more important than ensuring Eglin AFB's operations and training missions are not delayed due to compliance-related issues. Our people are vigilant to the needs of the mission and will continue to support Eglin's award-winning environmental program to the highest standards."
LRS Federal, a Service-Disabled Veteran-Owned Small Business (SDVOSB), with headquarters outside Annapolis, Maryland supports federal projects nationwide with a focus on engineering, construction management, environmental services, "green" energy initiatives, and program/project management support.