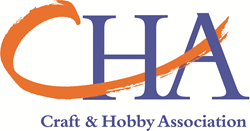 "I accept the position of interim CEO and President with the clear goal to move CHA forward in executing our strategic plan and positioning our industry and members for continued growth," stated Hill.
Elmwood Park, NJ (PRWEB) August 18, 2015
The Craft & Hobby Association (CHA) today announced that Chief Executive Officer and President Andrej Suskavcevic has decided with the Board of Directors to resign his position effective immediately.
CHA's Board of Directors recognizes the contribution that Andrej has made to CHA over the past three years and appreciates his efforts.
The Board has appointed Mark Hill as interim CEO and President. Hill has been in the creative industry for over 20 years, holding senior management positions with industry leaders, Plaid Enterprises, Creativity Inc., New Image Group and most recently the Thomas Kinkade Company. He also served two terms on the CHA Board of Directors from 2009 through 2014. During his terms on the Board he led the International Committee's initiative to successfully establish CHA-UK, in addition to chairing the Nominating, International and Market Research Committees.
"I accept the position of interim CEO and President with the clear goal to move CHA forward in executing our strategic plan and positioning our industry and members for continued growth," stated Hill. "I look forward to working with the Board of Directors and the CHA team to deliver a phenomenal MEGA Show in Anaheim, CA, January 7th through 12th, 2016."
"CHA has a talented, dedicated and focused staff," stated David Murray, Chairman of the CHA Board of Directors. "We are extremely confident in our interim CEO and President, and commit our full support as we move forward. I fully expect that the association and its Annual Conference and Trade Show will continue to be successful in the future."
For more information contact Tracy Soto at tsoto(at)craftandhobby(dot)org