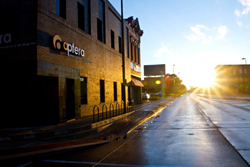 It's just really great to get our name out there on such a broad scale like this
Fort Wayne, Indiana (PRWEB) August 19, 2015
Aptera Software Inc., a Business Technology and Marketing Company with offices in Ft. Wayne, Indianapolis, and Nashville, this year made it onto Inc. magazine's list of the fast-growing businesses in the country. This year's Inc. 5000 was determined by percentage growth over the three-year span from 2011 to 2014. Aptera, which grew by 76% and brought on 30 new employees, comes in at number 3902 in the rankings.
"The story of this year's Inc. 5000 is the story of great leadership," explains Inc. President and Editor-In-Chief Eric Schurenberg. "In an incredibly competitive business landscape, it takes something extraordinary to take your company to the top… Business owners don't achieve that kind of success by accident."
Aptera continues to grow today. In 2014, the company launched an Inbound Marketing Practice and began a partnership with the marketing automation tech company HubSpot. This is in addition to Aptera's seven other IT verticals and its longstanding partnership with Microsoft. The 3-year span of the Inc. competition ended just a year after Aptera celebrated its 10th anniversary. The company's two founders began work on their own in 2003. Now Aptera has over 90 employees in its three locations, and it's on a course to make 2015 its best year ever.
"It's just really great to get our name out there on such a broad scale like this," says TK Herman, Aptera's CEO and one of the founders. "When Conrad [Ehinger, CIO] and I first started the company, it was a matter of looking around, at where we were then and at other similar businesses in the area, and saying, 'Hey, we can do better.' It really comes down to treating our clients as if every engagement is only the first stage in what will be a lasting partnership. Beyond that, it's hiring really great people and going after every opportunity with the confidence that you can knock it out of the park. That we've been doing so awesome lately, that we're getting recognized by publications like Inc.—that's just really vindicating and really exciting for us."
About Inc. Media:
Founded in 1979 and acquired in 2005 by Mansueto Ventures, Inc. is the only major brand dedicated exclusively to owners and managers of growing private companies, with the aim to deliver real solutions for today's innovative company builders. Winner of the National Magazine Award for General Excellence in both 2014 and 2012. Total monthly audience reach for the brand has grown significantly from 2,000,000 in 2010 to over 13,000,000 today. For more information, visit http://www.inc.com.
About Aptera, Inc.:
With offices in Fort Wayne, IN, Indianapolis, IN, and Nashville, TN, Aptera is a HubSpot Certified Partner and a Microsoft Gold Certified Managed Partner, with experts in Sitefinity, Digital Marketing, SharePoint, Business Intelligence, Custom Software, Cloud Computing, Web Development, and Mobile Applications.