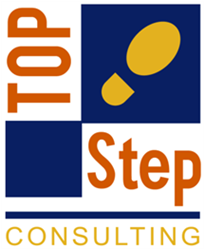 We are honored to be recognized by Inc. as one of the country's fastest growing companies," said Jodi Cicci, President and CEO
Washington D.C. (PRWEB) August 19, 2015
TOP Step Consulting, a leading provider of professional services automation, project management, and consulting skills services ranked number 3227 on the Inc. 500 | 5000 annual list, an exclusive ranking of the nations' fastest-growing private companies.
"The story of this year's Inc. 5000 is the story of great leadership. In an incredibly competitive business landscape, it takes something extraordinary to take your company to the top," says Inc. President and Editor-In-Chief Eric Schurenberg. "You have to remember that the average company on the Inc. 5000 grew nearly six-fold since 2012. Business owners don't achieve that kind of success by accident."
In addition to strong leadership, TOP Step Consulting's success is due in large part to the company's dedication to provide superior service to each customer. TOP Step Consulting has continued to grow year after year and maintain a high client satisfaction rate, priding themselves as 99% referenceable.
"We are honored to be recognized by Inc. as one of the country's fastest growing companies," said Jodi Cicci, President and CEO. "Over our eight years in business we have seen steady revenue growth and have continually added new clients. Our number one priority over everything else is to deliver excellent service to our clients, and we believe this commitment has been critical to our success."
In addition to the recognition by Inc. ranking it 5000 list of America's Fastest Growing Private Companies, TOP Step Consulting has also received accolades from other prominent organizations. Earlier this year Service Performance Insight (SPI) ranked TOP Step Consulting as a top performing professional services organization and awarded it "Best-of-the-Best" status for the sixth consecutive year and CIO Review placed TOP Step Consulting in a top spot on their annual list of the 20 Most Promising NetSuite Solution Providers.
The annual Inc. 5000 event honoring all the companies on the list will be held from October 21 through 23, 2015 in Orlando. Speakers include some of the greatest entrepreneurs of this and past generations, such as Marcus Lemonis, host of the CNBC show "The Profit," Robert Herjavec, one of the main "sharks" on ABC-TV's "Shark Tank," KIND Founder and CEO Daniel Lubetzky, and Co-Founder of Goodshop.com JJ Ramberg.
Methodology
The 2015 Inc. 5000 is ranked according to percentage revenue growth when comparing 2011 to 2014. To qualify, companies must have been founded and generating revenue by March 31, 2011. They had to be U.S.-based, privately held, for profit, and independent–not subsidiaries or divisions of other companies–as of December 31, 2014. (Since then, a number of companies on the list have gone public or been acquired.) The minimum revenue required for 2011 is $100,000; the minimum for 2014 is $2 million. As always, Inc. reserves the right to decline applicants for subjective reasons. Companies on the Inc. 500 are featured in Inc.'s September issue. They represent the top tier of the Inc. 5000, which can be found at http://www.inc.com/5000.
About TOP Step Consulting
TOP Step Consulting improves business efficiency and productivity for professional services business operations. TOP Step helps professional services organizations achieve their profitability goals allowing them to focus on building their business. The TOP Step team is comprised of consultants who have extensive experience in PS business operations, project management, and PS automation. They understand the challenges and rewards of managing an on-demand Professional Services Automation (PSA) system in multi-office and global business environments. TOP Step Consulting has served over 250 customers worldwide. For the past six years, SPI Research has ranked TOP Step Consulting among the Top Performing Professional Services Firms.