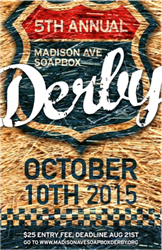 Decatur, Georgia (PRWEB) August 18, 2015
The Madison Ave Community Fund (MACF) is excited to announce the 5th annual Madison Avenue Soapbox Derby will take place on Saturday, October 10th, 2015. Registration for the race is now open now.
Founded in 2011 by the Madison Ave Community Fund (MACF), this unique competition challenges amateur racers to design, build and race non-motorized, gravity-powered soapbox cars. With the support of the community and neighborhood businesses, it has grown from about 20 drivers in 2011 to almost 100 drivers in last year's derby. Derby day will include local vendors with food and drinks along with live music after the race.
This year, one hundred percent of all proceeds raised by the Derby will benefit Hagar's House, an emergency night shelter and assessment center in Decatur offering support services for women with children. While participating in Hagar's House programs, families receive thorough assessment and crisis intervention.
Hagar's House is operated by Decatur Cooperative Ministry (DCM), a faith-based nonprofit organization supported by over 35 congregations from 14 denominations. DCM is committed to helping families facing homelessness settle into safe, stable homes and build healthy lives filled with peace, hope and opportunity. To learn more about DCM and Hagar's House, visit http://www.decaturcooperativeministry.org/.
The focus of the Derby continues to be providing the children of our community with resources to support a great childhood experience and the opportunity to succeed. For registration or additional information, visit http://www.madisonavesoapboxderby.org.
Who we are:
The Madison Ave Community Fund (MACF) is a non-profit organization started by a group of neighbors on Madison Ave in Decatur, Georgia. Our mission is to direct the funds raised from the Madison Ave Soapbox Derby and other future events to children's charities. The Derby was started in 2011 when we got together and came up with the zany idea of bringing together our families and neighbors to have fun while raising money for a local charity benefiting the children of our community. Thanks to all the support of our awesome neighbors and neighborhood businesses, the event has grown beyond our imagination and we are proud to announce that we have now donated over $50,000 to local children's charities!