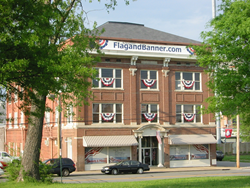 Little Rock, Ark. (PRWEB) August 18, 2015
The recent ballyhoo of the Confederate battle flag has sparked increased sales at Arkansas' FlagandBanner.com from not just the south, but all across the country and even Canada.
"The day WalMart and Amazon discontinued the sale of confederate flags, my internet business exploded with orders from all across the country," AFB owner Kerry McCoy said.
WalMart discontinued the sale of Confederate flag merchandise on June 23, 2015 and was soon followed by Amazon, Sears, eBay and other online retailers. This action prompted major flag manufacturing companies such as Annin Flags to discontinued the distribution of Confederate products. This left smaller retailers scrambling to fill consumer demands.
To date, Arkansas' FlagandBanner.com has seen a 50% increase in sales in June and July and a 63% increase in new customers. This increase in business has resulted in the creation of two new job positions within the company, which is a 10% job creation growth to a 22 person small business.
AFB sees the interest in Confederate flags waning, but believes patriotism from its customers will remain high in the consumption of other patriotic and historical products.
To date, AFB has filled most Confederate merchandise backorders and expects to have all completed by month's end.
When asked about the selling of the confederate battle flag, McCoy said, "I am not in the business of censorship for any segment of Americans. You can buy any historical flag, a gay pride flag, a Native American flag, a religious flag, a democrat and/or a republican flag from me. I represent ALL Americans. The innate right to freedom of speech is one of the things that makes our country great."