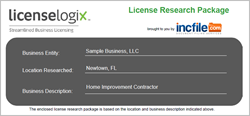 There are more than 150,000 filing jurisdictions in the United States with potential licensing obligations for businesses.
Houston, TX (PRWEB) August 19, 2015
IncFile.com now offers its clients the option of purchasing a Business License Research Package containing forms and instructions for all required licenses and registrations in the client's selected location. Government licensing agencies frequently update their forms and change requirements for supporting documents. IncFile's Business License Research Package, fulfilled by LicenseLogix, provides their clients with the most up-to-date forms and critical details regarding the submission and application process for the required licenses.
"We're always looking for ways to help our clients get and remain compliant with the various regulations they face. Adding the Business License Research Package to our suite of services makes perfect sense in light of our mission to provide a full range of corporate compliance services to our clients," said Nicholas Siha, IncFile Co-Founder.
IncFile.com offers an easy, cost efficient way to form a business and manage ongoing compliance. The addition of the Business License Research Package is a natural fit with IncFile's current services including business formation, certificates of good standing, annual reports, and registered agent representation.
There are more than 150,000 filing jurisdictions in the United States with potential licensing obligations for businesses. It can be challenging to determine which apply to a particular business and to confirm the correct application and filing process. Yet operating without the proper licensing in place is an extremely risky proposition.
"We have built a vast knowledgebase of licensing requirements in all US jurisdictions and across all industries. In order to provide the most relevant and up to date research packages we rely on both this knowledge base and our experienced research team to proactively identify changes in any jurisdiction. We are excited to provide that knowledge to IncFile's clients by fulfilling Business License Research Packages through this partnership. The time it takes a company to research all of its licensing requirements is time better spent building their business," said David Yount, Founder and CEO of LicenseLogix.
About IncFile.com
IncFile.com, which has earned an A+ rating from the Better Business Bureau, provides document filing services in all 50 states (plus Washington, D.C.), and specializes in the incorporation services industry. The site provides information on whether a prospective business should be formed as an LLC, S-Corporation, Corporation, or Nonprofit Corporation. IncFile.com also offers corporate filing documents, corporate services forms and IRS filing materials, among other products.
Founded in 2004, Houston-based IncFile.com was formed with the mission to provide a full range of incorporation services that were fast, customer-friendly and efficient – and offered at discount prices. Since its inception, IncFile.com has been used to help form more than 50,000 companies.
About LicenseLogix
Based in New York, LicenseLogix streamlines the process of business licensing for clients in all industries across North America and has become a premier provider of outsourced business licensing services. LicenseLogix helps clients quickly and easily obtain and maintain the proper licensing with a highly skilled legal team and their convenient, web-based Client License Information Center (CLiC).To learn more about LicenseLogix products and services, visit licenselogix.com.