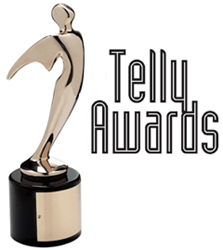 TELLY Awards named MR Direct as a winner in competition
Toledo, Ohio (PRWEB) August 20, 2015
This year's TELLY Award contest was one of the most successful and competitive in its long history. MR Direct was chosen as one of the awardees from over 12,000 entries submitted from all 50 states and several other countries. Since its founding in 1979, the TELLY has grown to become one of the most sought after awards, honoring outstanding local, regional, and cable TV commercials and programs.
The winning entries represent the best work of the most respected advertising agencies, production companies, television stations, cable operators, and corporate video departments in the world. All sizes of companies, agencies and organizations; from lightly-staffed local production houses to multi-national media companies, have been awarded a TELLY this year.
A prestigious panel of professionals was selected from the 650 members of the Silver TELLY Council, to judge this year's competition. Less than 10% of the entries submitted were awarded a Silver TELLY, the highest honor possible. Additional entries which were considered deserving of recognition were given a Bronze TELLY.
Who Is MR Direct International?
Headquartered in Toledo, Ohio, MR Direct International is a supplier and distributor of its own distinctive "MR Direct" brand of superior-quality sinks and faucets. Because MR Direct products are sold direct to customers, with no "middle man," prices are maintained at very affordable levels. MR Direct is a dynamic company, developing and introducing new sink and faucet models on a regular basis.
To view the video for which MR Direct was presented the TELLY Award, please visit https://youtu.be/V70L-Oga-J0.