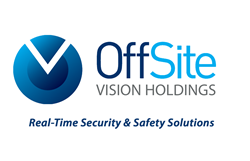 We are extremely excited to work with Mr. Leu and stay at the forefront of new technological advances for new and upcoming products," states William Lenahan, OSVH's CEO.
Red Bank, NJ (PRWEB) August 18, 2015
OffSite Vision Holdings, Inc. (OSVH), specialists in real-time security and safety solutions, today announced that the company has strengthened its executive management team by naming Douglas Leu as its new Chief Technology Officer. Mr. Leu brings a wealth of technical expertise and will be fundamental in assisting OSVH with the technical architecture of its current products and research and development of future products.
The decision to expand the company's core leadership team came from the company's Co-founders, Mark Eklund and William Lenahan who both share the same vision of exceeding customer expectations with unique state-of-the-art security and safety solutions. OSVH's main focus is to continue delivering security solutions that provide real-time location intelligence and allows response teams to quickly identify the location of people and assets. In order to successfully implement this vision, they looked for an engineering veteran with the right mix of management and software engineering experience. Mr. Leu fits this model perfectly and will be a huge asset to the company's executive team. "We are extremely excited to work with Mr. Leu and stay at the forefront of new technological advances for new and upcoming products," states William Lenahan, OSVH's CEO.
In his career, Mr. Leu has lead the development and deployment of four generations of asset tracking solutions and brings thirty years of software engineering experience to the table. As the former VP of Solutions Architecture for Synovia Solutions, he was responsible for architecting and managing the software development of Synovia's industry-leading Silverlining SAAS product. Prior to joining Synovia Solutions in 2009, Mr. Leu designed and implemented mission-critical, wire-line and wire-less applications for companies such as Kraft Foods, and Lockheed Martin. Mr. Leu graduated with a BS in Computer Science from the University of Dayton in Ohio and a MS in Engineering Management from Santa Clara University in California.
About OffSite Vision Holdings, Inc.
Founded in 2013, OffSite Vision Holdings, Inc. (OSVH) offers real-time security and safety solutions and works with companies who are looking to protect their employees, assets and intellectual properties in various vertical markets including commercial enterprises, federal and state government, utilities, pharmaceutical, and schools. Currently, OffSite Vision has Sales & Marketing offices in Bohemia, NY and Corporate offices in Red Bank, NJ. With a focus on data collection and analytics, the company has developed a unique solution that solves specific security problems that have not been able to be solved in the past. OSVH helps companies and emergency responders "see what cannot be seen" and quickly identifies a situation for quick response and mitigation. With 24/7 situational awareness capabilities in place, lives can be saved by being prepared.
Each member of their executive team has been in the security industry for over 30 years and brings a wealth of knowledge gained by delivering open and scalable B2B mission-critical security and safety solutions to organizations around the world. With this leadership in place, the company is the first to offer a live monitoring and tracking solution that can feed directly into a customer's current VMS and access control systems.
OSVH offers optimized technologies for dynamic M2M cloud-based environments including mobile and wireless communications, web-based data delivery services, cutting-edge sensor and RFID technologies, location intelligence, GPS, and video surveillance. Their flagship products include EmergenZ™ Evacuation & Response Solutions and EmergenZ™ Outdoor Secure which provides cloud-based highly scalable security options that identifies the location of people and high value assets 24/7 from anywhere at anytime. For further information on OSVH, please visit their website at http://www.offsitevision.com.
PR Contact:
Monique Merhige, President
Infusion Direct Marketing & Advertising, Inc.
Phone: 631-846-1558
Email: monique(at)infusiondirect(dot)com