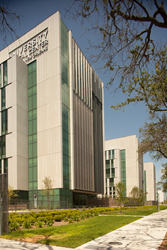 "The UMC project demonstrates how metal mesh can beautify structures while providing important comfort and safety functions for staff, patients and visitors. David Zeitlin, Cambridge Architectural National Sales Manager
Cambridge, Maryland (PRWEB) August 26, 2015
Cambridge Architectural mesh plays a significant role in the artful design of the new $1.1 billion University Medical Center New Orleans (UMC), which opened August 2, 2015. Built with federal disaster relief as well as state and private funds, the 2.3 million square-foot facility is one of the largest hospital construction projects in the United States. It replaces two older hospitals damaged by Hurricane Katrina 10 years ago.
Cambridge metal mesh appears on UMC's three, seven-story patient towers facing Canal Street, downtown New Orleans' main thoroughfare.
Architect Jose Sama, Lead Principal with NBBJ's healthcare design practice, lauded the mesh and said it was selected for its aesthetic qualities.
Eight panels of Mid-Balance mesh are installed on the first six stories of each tower to provide a decorative accent over the glass and concrete curtain wall. Angular fins of Scale mesh extend from the seventh floor to the roof and provide solar shading.
Scale mesh was also chosen by New Orleans architects Blitch Knevel for the five-level UMC parking garage. Placed on the parkade's front side and stairway, 86 mesh panels add a unique aesthetic feature to the structure while offering fall protection for visitors and ventilation for vehicle exhaust.
"Everyone loves the screen effect and play of light from the mesh," said Knevel, who picked the Scale pattern used on the garage for its "translucent qualities" and chevron pattern. "The building would be dead without it."
A custom-built Shade mesh fin system provides solar shading on a separate south elevation of the garage that leads to the UMC helipad.
"We are proud to have Cambridge Mesh used so prominently in this state-of-the-art centerpiece for healthcare in New Orleans," said David Zeitlin, Cambridge Architectural National Sales Manager. "The project demonstrates how metal mesh can beautify structures while providing important comfort and safety functions for staff, patients and visitors."
Spanning 37 acres of downtown and the Mid-City neighborhood, UMC replaces the Interim LSU Public Hospital and Charity Hospital, where patients were evacuated due to flooding and storm damage from Katrina. Through an academic partnership, the new facility is the teaching hospital for both Louisiana State University and Tulane medical schools. It also serves as the region's Level 1 Trauma Center.
Project: University Medical Center New Orleans, the academic medical center of LCMC Health and its partners Louisiana State University and Tulane medical schools
Architect: NBBJ (Seattle)/Blitch Knevel (New Orleans)
Mesh Patterns: Mid Balance, Scale & Shade
Attachment Systems: Eclipse, Modified Eclipse, Short Infill
Completion Date: August 2, 2015
About Cambridge Architectural
Cambridge Architectural, a division of U.S. Cambridge, Maryland-based Cambridge International, is the most experienced full-service provider of architectural mesh systems for both interior and exterior building applications. As the world leader in tensioned mesh systems, Cambridge Architectural metal fabric solutions lend unique aesthetic appeal, functionality, affordability and sustainable benefits to a variety of structures interior and exterior. Cambridge Architectural offers full system design, engineering and collaboration from concept through installation – in the most challenging building environments and under the strictest budgets. Cambridge Architectural metal fabric systems are categorized by the primary applications they serve, including parking structures, exterior shades, facades, canopies, curtains and others. As a member of the United States Green Building Council, Cambridge Architectural is committed to promoting methods, technology and products resulting in environmentally responsible and healthy buildings. The Cambridge Architectural team develops systems that meet or exceed LEED requirements and provides consultation and direction on a project-by-project basis. Visit http://www.CambridgeArchitectural.com for more information.