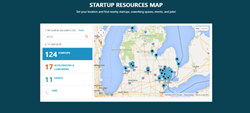 Detroit, MI (PRWEB) August 25, 2015
Michipreneur.com has launched a new platform for connecting Michigan entrepreneurs and creatives across the state to news, capital, classes, jobs, and more. The growing online publication will now serve as an open resource for businesses across the State of Michigan.
"We're excited to launch a resource that will help connect our growing startup communities in Detroit, Ann Arbor, and across the state to cities like Grand Rapids," said Founder and Editor Amanda Lewan. "We're going to see even more innovation come from Michigan over the next few years, and we're excited to be a resource for the community."
The website provides six resource directories open to the community listing over 120 startups, dozens of accelerators and co-working spaces, current events, the latest jobs, all types of funding sources, and business classes. Similar platforms exist in other cities such as Chicago (BuildinChicago) and New York City (digital.nyc), but this is the first of its kind for Michigan. Over 120 startups are already listed in the Michipreneur Start Directory, showing a growth in this area.
The new platform was built by a local startup company, Momentum, who specializes in web design.
"As a growing technology startup, we knew a resource like this would better help other businesses," said Jimi Plouffe, Founder and CEO of Momentum. "We excel in designing and developing interactive resources and tools like Michipreneur's platform."
Michipreneur has been publishing news for entrepreneurs across industries for the past two years. Visit Michipreneur.com to see the new online platform today.
About Michipreneur
Michipreneur is an open online platform for entrepreneurs that publishes news, events, jobs, and provides resource directories to empower local businesses. Visit Michipreneur.com to learn more.
About Momentum
Momentum is a web design and digital marketing agency based in Clinton Township, Michigan. With teams of digital strategists, designers, writers, and programmers, we help small to mid-sized business grow. Learn more about Momentum: http://www.seekmomentum.com
###