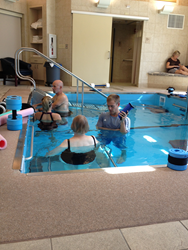 Having a HydroWorx pool is only part of the key to making the new programming a success. Another, often overlooked, element of launching aquatic therapy offerings is the complete and unwavering engagement of the clinic's team members
Middletown, PA (PRWEB) August 18, 2015
It's no secret that you ideally need access to a world-class therapy pool to launch an aquatics program at your clinic, hospital or senior living community. However, having a HydroWorx pool is only part of the key to making the new programming a success. Another, often overlooked, element of launching aquatic therapy offerings is the complete and unwavering engagement of the clinic's team members. Without their constant enthusiasm and creativity, it can be harder to maintain a steady flow of repeat and new clientele and referrals.
HydroWorx, the world leader in therapy pools, is sponsoring an International Council on Active Aging (ICAA) webinar called "Create a Successful Aquatics Program Through Staff Engagement" on August 20, 2015, from 1-2 p.m. E.D.T. This free webinar will touch upon the many ways that staff involvement can transform an aquatics practice into a successful business model. Led by Texas-based presenter Keith McCrate, PT, the Director of Rehabilitation and Wellness Services at Presbyterian Village North (PVN), "Create a Successful Aquatics Program Through Staff Engagement" will focus upon:

Best practices for training therapists and fitness/wellness staff to work together based on models developed at Presbyterian Village North.
How to establish a high-quality aquatics program to improve patient/client outcomes.
How to bridge physical therapy and wellness programming to maximize aquatics programming benefits.
Ways to keep the engagement high across the board, especially among long-tenured staff members.
"Create a Successful Aquatics Program Through Staff Engagement" is well suited for attendees such as facility administrators and executive directors, directors of physical therapy and rehab, wellness directors and coordinators, and aquatics and fitness directors. Registration to attend this free webinar can be made at here.
About the Presenter
A physical therapist for more than a decade, Keith McCrate, PT, works as the Director of Rehabilitation and Wellness Services, Presbyterian Village North (PVN), in Dallas, Texas. He oversees a team of 46 licensed therapists and wellness professionals, and enjoys bringing the latest evidence-based practice techniques and technologies to PVN to benefit the geriatric population he has been privileged to serve for 13 years.
About HydroWorx®
Since the late 1990s, HydroWorx has manufactured aquatic therapy pools with built-in underwater treadmills to enable physical therapists to more effectively offer their patients the opportunity to increase range of motion, decrease risk of falls and joint stress, and remain motivated through the rehab process.
Products such as the HydroWorx 2000 and 500 Series therapy pools, along with the new construction-free HydroWorx 300 system have revolutionized the face of aquatic therapy; in fact, HydroWorx technology is used by world-class facilities like the renowned Kennedy Krieger Institute and The Andrews Institute, as well as physical therapy clinics across the country.
HydroWorx offers a wide range of underwater treadmill pools and peripheral products and services. Every day, more than 23,000 athletes and patients use HydroWorx technology to recover from injuries and health conditions.
More information about HydroWorx can be found at http://www.HydroWorx.com.