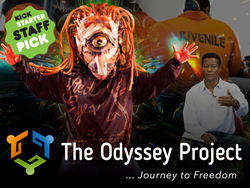 "I want to make this film because it's so important," says Manning. "Odyssey doesn't just address a problem - it tackles it, and thus becomes part of a solution."
Santa Barbara, CA (PRWEB) August 19, 2015
More incarcerated teens than ever before have requested to participate in the 2015 course known as The Odyssey Project. No surprise there. This innovative university program has changed lives of incarcerated youth of color since 2011. It is the subject of a documentary now being filmed.
The Odyssey Project is a course taught at the Univ of California, Santa Barbara (UCSB) which pairs teens from Los Prietos Boys Camp with UCSB liberal arts students – parties that otherwise would rarely engage. Boys Camp teens that apply and are accepted as participants leave the detention facility; they are bused daily onto the UCSB campus, where they work alongside UCSB students on a 6-week "curriculum". They rehearse, exchange, and partake in a range of theater and specialized art modules. And they do this together - as peers and collaborators. The teens, like the UCSB students, are mentored by the faculty; everyone is always treated equally – and effectively, they are all students.
Personal stories from every student help create a stage play (themed to Homer's Odyssey – the long journey home). The course culminates in a live performance of that stage play. It takes place at a local public theater, and it is always sold out. The Odyssey Project is a unique learning experience for the UCSB students, and for the incarcerated teens – it's shown an ability to regenerate their self-esteem, help them re-discover their "voice", and it changes their lives.
Michael Morgan is the founder and architect of The Odyssey Project; he is Senior Lecturer in the UCSB Theater Dept. (where the program has resided since inception). Morgan is an African-American man who grew up in Harlem. He is sensitive to the plight of youth of color who are both from low socioeconomic neighborhoods and (sometimes) from families with difficult challenges. Morgan believes that for outreach to work best society has to do more than just talk about equality, it has to rise above inherent distrust by demonstrating it. "When the teens from the Boys' Camp get to know the UCSB liberal arts students," says Morgan, "they see that they really are not any different. Then, when they get a chance to show their creative side alongside them, they embrace the desire to share and learn. A mentoring faculty is something they've not had ... ever! They rediscover their voices, and regain self-respect. That creates change."
"I want to make this film because it's so important," adds Manning, whose last documentary was the acclaimed Road to Fallujah. "Odyssey doesn't just address a problem - it tackles it, and thus becomes part of a solution. This is outreach centered on equality and respect that is happening now. It would do more good if it were replicated. That's our end goal. For now, it's a story that needs to be told, and I want to tell it."
The documentary will follow 5 students from the 2014 program, showing the exercises (from creative writing and rhyme to Aikido fighting and mime), rehearsals, performances, and sociological interplay. It will reveal each boy's back story, and the challenges faced by each after serving their sentences and returning home. It also explores the inequities inherent in the prison pipeline, with comments from activists and politicians. And, it highlights a rare cooperation between a municipality, an institute of higher learning, and a segment of the local criminal justice system that has allowed The Odyssey Project to exist. "That cooperation between systemic institutions is big because it says: 'hey – look here - it CAN happen'," says Manning.
Manning and Morgan have used their time and limited resources to start the filming. They then enlisted the aid of a handful of supporters. To finance the completion of production, they turn to 'the crowd' at Kickstarter. "Kickstarter is such a collaborative process, and so are we. Crowd funding allows us to stay independent, tell our story in a truthful way, and remain consistent with our vision", says Morgan. "For example, we've had much success with the teens, but not with all. The success that has eluded us also needs to be part of this film."
Upon success of the Kickstarter campaign, Morgan will prepare a detailed manual for municipalities and universities nationwide, so that programs similar to The Odyssey Project can be adopted elsewhere. "This is a formula that can be replicated as long as there is a will to do it" he says. "We can make a dent in the rate of recidivism among youth of color nationwide. What a wonderful thing."
The Kickstarter project expires in the evening of August 25. The 2015 Odyssey Project performance is set for September 13, 2015.
More information, including an explanatory video, can be found on Kickstarter at http://kck.st/1eEJBfQ.