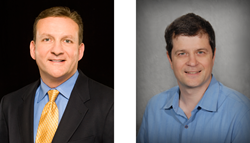 Attendees will have the opportunity to stop by booth 17 to learn how OpenSymmetry can help map their journey to success.
Austin, TX (PRWEB) August 19, 2015
OpenSymmetry, a global consulting firm that delivers Finance, HR, and Sales solutions, announced that they will be attending the 2015 WorldatWork Spotlight on Sales Compensation Conference, August 24th-26th in Chicago, IL. Company leaders and customers will be speaking at two breakout sessions to help attendees define, evaluate, and transform their sales compensation programs, moving them from uncertainty to opportunity.
In light of helping attendees get those 1500 hours back, OpenSymmetry will provide insight into how they can map their journeys to success, as well as be prepared as they leave the conference with actionable tools from the following sessions:
1. Trends & Predictions, August 25th, 11:45 am – 12:45 pm: This panel discussion will feature Ray Wolf, President of OpenSymmetry. Attendees will become familiar with how the future of sales compensation is shaping, with an interactive discussion around issues, trends, and its impact on organizations.
2. Using Compensation to Revolutionize the Customer Experience at Lowe's, August 25th, 4:00 pm – 5:00 pm: This session will be presented by Greg Nell, Vice President, Compensation and Relocation, Lowe's Corporation, Inc., Chris Honcoop, Principal Consultant, OpenSymmetry, and Steven Leichtman, Head of North American Sales, beqom. Attendees will hear about how Lowe's found and implemented a solution, with key takeaways including how to use technology to drive transformation, considerations when evaluating and implementing, and benefits from the solution.
To view the entire conference agenda, click here.
In addition to the breakout sessions, OpenSymmetry will be exhibiting at booth 17 and is co-sponsoring various events. Attendees can stop by the booth to speak with Sales, Finance, and HR solution experts to learn how they can get the most out of the trip and to gain clarity on where they need to go to get their questions answered. Attendees will be able to pick up some of OpenSymmetry's featured resources, including the 2015 Vendor Guide and SPM Assessment. They will also have the opportunity to enter to win a Polaroid Cube. Attendees should also make sure to stop by the photo booth, co-sponsored with CallidusCloud, to get their picture taken during the networking reception on August 25th at 5:30 pm, register for architectural boat tour, co-sponsored with Xactly Corporation on August 25th at 7:00 pm, and meet up with OpenSymmetry for breakfast, along with Anaplan, at Chicago Cut Steakhouse on August 26th at 7:45 am. To learn more and to RSVP, contact an expert today.
About WorldatWork
Founded in 1955, WorldatWork is a nonprofit human resources association for professionals and organizations focused on compensation, benefits, work-life effectiveness and total rewards. The organization has more than 65,000 members and subscribers worldwide; 95 percent of Fortune 500 companies employ a WorldatWork member. WorldatWork is affiliated with more than 70 local human resources organizations and has offices in Scottsdale, Ariz., and Washington, D.C.
About OpenSymmetry
OpenSymmetry is a trusted leader and global advisor that delivers Sales, HR and Finance solutions to drive accelerated business performance. With a leading success rate across more than 20 industries worldwide, you can count on OpenSymmetry to deliver the comprehensive solutions you need for a proven path to rapid results. From customized, proven solutions to seamless implementation, testing, training and managed services, OpenSymmetry has the proven track record and expertise you can count on to move you quickly from Strategy-to-Success.
Founded in 2004, OpenSymmetry is headquartered in Austin, Texas with offices in London, Sydney, Johannesburg, Chennai and Kuala Lumpur. Clients range from SMB to Fortune 500 companies in the Communications, Financial, Health/Life Sciences, and IT/Distribution industries. For more information about OpenSymmetry, please visit http://www.opensymmetry.com.