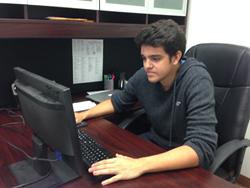 "I am very excited because I'm learning so much about e-commerce, social media ... and many other aspects of business."
Huntington Beach, CA (PRWEB) August 19, 2015
Gorilla Stationers' forward-thinking approach to the business supplies industry has extended to their community outreach and partnership with the University of California system. Since November 2014, Gorilla Stationers has been providing internship opportunities to several aspiring professionals from all over the world. Interns from Italy, Chile, Spain, Brazil, India, and beyond have continued their coursework by gaining a hands-on approach to social marketing, SEO branding, and web development.
The result has created a uniquely diverse work environment, wherein the Gorilla Stationers offices have benefitted from the international, millennial perspectives. Rosemary Czopek, the company's President, said, "Our goals are for our interns to get an in-depth look at the workings of a small business and to apply their experience from their respective cultures into the context of a global market. We give them the opportunity to think critically about how their individual contributions enhance the quality of our company's expansion."
Gorilla Stationers' partnership with the UC system has developed a strong foothold in the education for international students willing to get a head-start in their professional career, and the locality of the business in relation to the Southern California campuses makes it a prime option for students looking for quality experience without straying too far from their new surroundings.
Ignacio Sainz, a recent graduate from European University in Madrid, Spain, participates currently as a web development intern for the company. When asked about his experience, he commented, "I am very excited because I'm learning so much about e-commerce, social media marketing, and many other aspects of business as well as putting my own experience into use." He made further mention about how enthused he was to receive the skills he believes will aid him in his aspirations to develop and manage his own web company.
Czopek previously stated her goal is for her staff to reflect the same shifting of fresh perspectives as the clients they aim to reach (and have been servicing) since September 2012, and the inclusion of these worldly individuals is a testament to the diligence and open-mindedness the company has slated as their top priority.
About Gorilla Stationers: Gorilla Stationers has an exciting new approach to the office products business. Founded in 2012 by Rosemary Czopek, a respected office supplies veteran in Southern California, Gorilla is outstanding in fulfillment expertise. From purchase point to delivery point, they focus on getting you what you want and when you want it. Gorilla Stationers is a participant of Goldman Sachs' 10,000 Small Businesses Program and certified as a diversity supplier through DBE and WBENC.