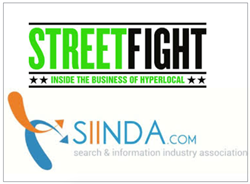 (PRWEB) August 19, 2015
With an aim to bring world-class programming and networking to the dynamic local tech industry in Europe, Street Fight, the premier media, research, and events company covering local marketing, commerce, and technology in the United States, has teamed up with SIINDA (the Search & Information Industry Association), the leading Europe-based non-profit association focused on search (digital, mobile, print, vertical directories and platforms), information, and telecommunications.
On April 20-22, 2016, the two companies will launch LOCALCON, a two-day event in London at the Chelsea Harbour Hotel,, which will include speakers form top digital local companies and a cocktail reception at the Chelsea Football Stadium. The conference will bring together hundreds of European and American executives driving innovation in location tech and marketing strategies.
"Over the past four-and-a-half years, Street Fight's signature Summits in the U.S. have been the hottest must-attend events covering local marketing, commerce and tech," said Laura Rich, CEO of Street Fight. "Expanding into the European market with this event will allow us to serve a whole new group of dynamic companies working on many of the same local marketing problems on the other side of the Atlantic. We're thrilled to launch with a partner like SIINDA, the leading association covering local search and commerce in Europe. SIINDA knows Europe and Street Fight knows disruption; thus our collaboration will prove incredibly valuable for their members as well as our audience."
"There are many European companies that are leaders in local marketing and location-based commerce as well as business to business commerce," said SIINDA's general manager Kimberli J. Lewis. "We felt that the time was right to launch a London event in cooperation with with Street Fight's who's dynamic events in the U.S reach all audiences. Both of our organizations really understand what is going on at the cutting edge of local and digital B2B, and we're looking forward to putting together an unforgettable conference."
LOCALCON will feature an opening day for SIINDA members, followed by a full day of programming open to all local tech executives. Tickets will be available starting Oct. 21, 2015. Please contact either company with sponsorship inquiries.
ABOUT STREET FIGHT
Street Fight is a media, events, and research company focused on the business of hyperlocal commerce, marketing and technology. The Street Fight website publishes news, commentary, case studies, and how-to articles to chronicle the hyperlocal ecosystem's development of sustainable business models. Street Fight Insights conducts research and analysis on industry trends within hyperlocal marketing. And Street Fight operates proprietary and custom events for all aspects of hyperlocal business. Street Fight Summit is the company's flagship event, held in New York City each year. and other annual conferences are take place in San Francisco and Denver. For more information, go to http://streetfightmag.com.
ABOUT SIINDA
SIINDA is the Search & Information Industry Association, the leading European based non-profit association bringing together companies in the search (digital, mobile, print, vertical directories and platforms), information, and telecommunication sectors as well as businesses providing "on demand" services. We have global members from Asia to Latin America and from Africa to Australia. We provide a wide range of member services from market research to conferences and summits. We are a resource forum where complementary market segments in search and information can connect, share, and grow. We are fostering the development of positive, ongoing partnerships that enable us all to prosper. We keep our members up to date with the latest market trends, technical developments, and critical legislation that might affect our businesses. We also provide a platform where seed level start-up's can mix with industry leaders. Our worldwide network of members fosters the exchange of ideas and the encouragement of partnerships. For more information, go to http://siinda.org.