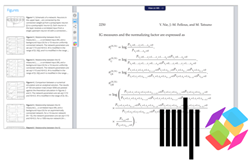 Cambridge, MA (PRWEB) August 19, 2015
Today, MIT Press, a world-leading university press, and ReadCube, the Boston-based publishing technology company, announced a partnership that will bring MIT Press's collection to the ReadCube platform.
Through the ReadCube Discover service, over 29,000 articles from 30 scholarly journals across the arts, humanities, economics, science and technology, history, and political science have been indexed for enhanced discoverability through ReadCube's search engines, feeds and its popular personalized recommendation engine.
"This partnership with MIT Press is a milestone for ReadCube as they become the 60th publishing partner to sign onto the service, joining the likes of Springer, Nature, Wiley, deGruyter, the Royal Society of Chemistry, Allen Press, and SciELO.
"As publishers, our mission is to support both our authors and readers - the core of that is connecting one with the other," says Nick Lindsay, Journals Director, MIT Press. "By working with ReadCube, we can not only increase the accessibility of our articles but also offer a unique 'connected' reading experience."
The agreement also includes the MIT press collection available as Enhanced PDFs when read within ReadCube's web, desktop and mobile applications. Features include hyperlinked in-line citations, annotation tools, instant access to supplemental materials and figures, clickable author names, social sharing, and Altmetrics.
"MIT Press continues to be an innovator in this space. Their collection is an exciting addition to the ReadCube platform and we are thrilled to have the opportunity to work with them to bring their multi-disciplinary titles to our community of readers," said Robert McGrath, co-founder and CEO of ReadCube.
About MIT Press
The MIT Press publishes over 200 books yearly and 30 scholarly journals in the fields of art, humanities, economics, science and technology, international affairs, history, and political science. Established in 1962, The Press is known for long-term commitment to design excellence, as well as its creative use of new technologies.
About ReadCube
ReadCube develops software to make the world of research more accessible and connected. The free ReadCube desktop application for PC and Mac helps researchers in any discipline easily organize and manage existing article libraries, and discover new literature through searches and personalized recommendations. ReadCube offers a suite of innovative services to publishers, including Readcube Discover, ReadCube Connect and ReadCube Checkout. ReadCube's publisher technologies have been adopted by partners such as Wiley, Nature Publishing Group, Springer, Frontiers, Allen Press, DeGruyter, Palgrave, and SciELO. Harvard researchers Robert McGrath and Siniša Hrvatin founded Labtiva in 2007, which now has offices in Cambridge, MA and Zagreb, Croatia, and is supported by Digital Science, operated by global media company the Holtzbrinck Publishing Group. To find out more about ReadCube, visit: http://www.readcube.com.
About Digital Science
Digital Science is a technology company serving the needs of scientific and research communities, at the laboratory bench or in a research setting. It invests in and incubates scientific software companies that simplify the research cycle, making more time for discovery. Its portfolio companies include a host of leading and admired brands including Altmetric, BioRAFT, Figshare, Labguru, Overleaf, ReadCube, Symplectic and ÜberResearch. It is operated by global media company, the Holtzbrinck Publishing Group. Visit http://www.digital-science.com and follow @digitalsci on Twitter.