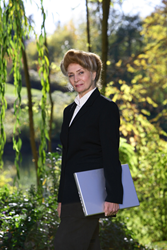 Grants Pass, OR (PRWEB) August 19, 2015
"It's not the heat, it's the humidity." Although hot humid summer air feels less comfortable than hot dry air, both can be severely dehydrating to the human body but for different reasons. Either way, according to fresh water advocate and radio host Sharon Kleyne, body dehydration or water loss can be a serious health risk, especially in summer. A wise individual, before going out in the summer sun, will take appropriate precautions.
Kleyne will discuss summer weather and dehydration on her Sharon Kleyne Hour™ Power of Water® radio broadcast of August 17, 2015. For the live show or a podcast, go to http://www.SharonKleyneHour.com.
The syndicated broadcast, hosted by Kleyne, is heard weekly on VoiceAmerica and Apple iTunes. The education oriented show is sponsored by Bio-Logic Aqua® Research, founded by Kleyne and specializing in fresh water, the atmosphere, accelerated body surface evaporation and dehydration. The Research Center's signature products are Nature's Tears® EyeMist® for dry eyes and Nature's Mist® Face of the Water® for dry skin.
Hot humid air, says Kleyne, stimulates profuse perspiration that can quickly dehydrate the body to dangerous levels, resulting in heat stroke and death. Perspiration is the body's primary means of cooling itself and also plays a role in detoxification. The 98 percent of perspiration that is water comes directly from the blood. The rest consists of salt, oil, minerals and urea, a waste product from the blood.
The perspiration reflex, Kleyne explains, is triggered by three factors: An increase in the body's core temperature as a result of fever or overwork, stress, and/or high surrounding temperatures. The water in perspiration evaporates on the skin, causing the skin to cool as heat energy moves from the skin surface to the water to the air. The cooled skin then cools the venous capillaries, which cools the body core.
Because hot humid air is already saturated with water vapor, perspiration under humid conditions evaporates very slowly, if at all. Under these conditions, according to Kleyne, little or no cooling takes place. In a desperate attempt to cool, itself the body will generate profuse amounts of perspiration until there is no water or salt left. At that point, heat stroke rapidly sets in.
To prevent dehydration from excessive perspiration, according to Kleyne: (1) Remove oneself, if possible, from the situation causing the sweating. (2) Replace lost water – and lost salt – as quickly as possible. Since the water in perspiration comes from the blood, it can be easily replaced by drinking. Kleyne recommends at least 8 to 10 glasses of pure water per day, in addition to all other fluids, and more when perspiring heavily. The act of drinking water also cools the body. Warm water is absorbed more quickly than cold water but does not cool as effectively.
Hot dry air is a little more insidious than hot humid air but can also be dangerous, according to Kleyne. Hot dry air is less saturated with water vapor so perspiration is able to freely evaporate and successfully cool the skin. The result is less perspiration, which is why dry air feels more comfortable.
However, with the hot air less saturated, liquid water molecules in skin and eyes now have a place to go when they evaporate. As a result, moist surfaces quickly dry out, including the moist skin and eye surface.
Signs of eye and skin dehydration, says Kleyne, are dry, irritated, burning or itching eyes and dry skin that is less able to withstand UV radiation and sunburn. Small amounts of perspiration, however, can mask skin dryness. Dry eyes are more noticeable, especially when the discomfort is aggravated by salt from perspiration (which is much saltier than tears).
To avoid eye and skin dehydration and discomfort in hot summer weather, Sharon Kleyne recommends the use of sunscreen any time one goes out in the sun. Sunscreen offers UV and sunburn protection and also acts as a moisture barrier to slow water evaporation from inside the skin into the atmosphere.
Kleyne also recommends Nature's Tears® EyeMist® for dry eyes and Nature's Mist® Face of the Water® for dry skin, both from Bio-Logic Aqua® Research. Apply as often as necessary to keep skin and eyes moist and hydrated.
© 2015 Bio-Logic Aqua® Research. All rights reserved.