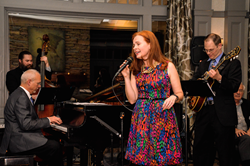 Lifelong Learning Courses and Cultural Enrichment
Atlanta, Georgia (PRWEB) August 19, 2015
According to Real Estate Scorecard, lifelong learning has taken on a whole new meaning at Reynolds Plantation on Lake Oconee. The award winning golf resort in Georgia initiated a series of events called the Linger Longer Living Cultural Series years ago. This series is a blissful crowd pleaser educating the mind and body of club members and the local community. The events include cocktails followed by a presentation/lecture or cocktails and dinner followed by a concert. Subject matter covered varies from music to politics to history. Reynolds Plantation's proximity to the University of Georgia, Georgia's Flagship University, provides a ready supply of highly educated experts to share their talents and knowledge.
Here's the Fall Season lineup:
The Ruling in the Health Care Case Lecture and Discussion
A Visit with Her Majesty, Queen Elizabeth II Luncheon & Book Dramatization
Birding 101: Bird Identification in the Field Two Day Workshop
An Evening of Jazz: From Swing to Bebop Prelude Dinner and Concert
The CIA in War and Peace Lecture and Discussion
The Virtuoso Violinist Prelude Dinner and Concert
Celtic Christianity in Our World Lectures on Culture & Classics
The Life and Death of Juliette Derricott Lecture and Discussion
Meeting new people at lifelong learning events fosters friendships based on mutual interests. Finding others with common political and social views over dinner and drinks leads to lifelong friendships as well as lifelong learning. A widowed friend met his now wife at a lifelong learning event and their romance was sparked by a mutual interest in Astronomy.
Reynolds Plantation is supporting all these new relationships through their Linger Longer Living Cultural Series. At Reynolds Plantation, new friends may be made in other areas besides lifelong learning events. There are six restaurants on the property, including The Ritz-Carlton Lodge. Opportunities abound to join over 30 self organized clubs that do anything from following football to arranging moonlight cruises on Lake Oconee.
Reynolds Plantation is a golf resort in Georgia that began life as a family hunting lodge called Linger Longer and morphed into one of the best master planned communities in North Georgia. Sited on the shores of Lake Oconee in northeastern Georgia, the 10,000 acre property features 117 holes of golf. The property has been given the Platinum Award by Golf Magazine for 2014-2015. The Platinum Award is given to the top ten golf resorts in the United States. In addition to golf, the property boasts The Lake Club Tennis Center, winner of the 2009 USTA Facility of the Year Award, 4 marinas on site, a 19,000 acre lake, The Lake Club with indoor and outdoor pools, a cafe and a fitness center. Enough activities to make you want to Linger Longer and meet some friends.
Twenty five years in the making, Reynolds Plantation is one of the best master planned communities in North Georgia. With the recent renovation of the golf courses, this is truly a golf destination. Adding to the appeal is The Ritz-Carlton Lodge and Spa on site and the large choice of housing types in the development; a cottage can be purchased for under $200,000 and the sky is the limit with many types of housing to choose from.
Greensboro, Georgia is located about 60 minutes east of Atlanta and about 45 minutes from Athens, Georgia, home of the Georgia Bulldogs and one of the epicenters of the Southeastern Conference and college football. The University of Georgia is ranked in the top 100 Universities in the US by US News and World Report and is home to OLLI @UGA - The Osher Lifelong Institute at the University of Georgia. OLLI has around 1200 members and offers about 250 courses per year. OLLI members can enjoy anything from luncheon programs to trips across the country, there are more than 20 special interest groups and social events are held frequently. Classes range from the paranormal to computers to architecture.
Late summer into fall is a great time to visit North Georgia. The weather is cooling and the leaves are beginning to turn in the rolling hills of the Piedmont. It's time for homecoming parades, football, fall foliage tours, bonfires and harvest. Take time to soak in the views of the fall foliage reflected on Lake Oconee, relax at the spa, have dinner in one of the six restaurants and meet some new friends. Maybe try water skiing, kayaking or go fishing, play a few rounds of golf or check out the walking and biking trails at Reynolds Plantation.
Contact Reynolds Plantation direct at 706-467-1133 to schedule a tour during one of the Linger Longer Living Cultural Series.
About Real Estate Scorecard:
Real Estate Scorecard writes unbiased real estate reviews providing in-depth information about popular gated communities in Florida, Georgia, North Carolina, South Carolina and Tennessee, all in an effort to help people discover where to retire in the Southeast.
Website: http://realestatescorecard.com