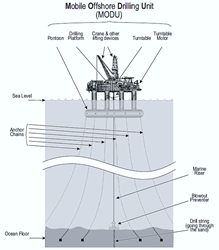 "We feel that one of the biggest concerns for the oil drilling industry today is the effect a spill can have on a sensitive area," Greg Waite, CEO InventionShare
Ottawa, ON (PRWEB) August 19, 2015
Mr. Greg Waite, CEO of InventionShare, announced today the exclusive marketing rights to a new invention called Global Preservia™ which provides oil spill protection for marine drilling. Installed prior to drilling, the system protects and contains a well before minor or major spills occur and it is fully scalable and can support shallow or deep marine wells.
Global Preservia is a pre-positioned protection system that prevents the environmental contamination which would otherwise result from oil or gas blowouts or a major leak from an underwater drilling site. It also acts as a fire prevention system. The Global Preservia system surrounds a drilling site, from ocean floor to surface, with a wrapped and folded oil and gas-impermeable membrane that expands as necessary. Once the system has been installed on a drilling rig at one site, it can be left in place to protect that well. After the well is capped or otherwise safely connected to production piping, the system can be moved to other sites, or the system can be removed for recycling or reuse elsewhere.
"We feel that one of the biggest concerns for the oil drilling industry today is the effect a spill can have on a sensitive area," said Mr. Waite. "For example, the impact of the Deepwater Horizon 2010 spill in the Gulf of Mexico was enormous, and there were a lot lessons learned - cleanup, the impact on the environment, the impact on global economies and on various marketplaces. There were questions on the overall risk assessment and current safety policies, not to mention the potential liabilities in the order of tens of billions of U.S. dollars as well as the corporate reputation of one or more large and well-known companies, most notably BP."
Mr. Waite said the impact of the Deepwater Horizon oil spill has been well documented and that, along with the millions of litres of oil gushing into the Gulf, areas outside of the actual spill zone were affected including the tourism industry, the fishery, real estate prices, employment - and the market value of many stocks, hitting pensioners hard. Mr. Waite said using the Global Preservia system in 2010 would have fully contained the spill, allowing time for a team to bring in ships to extract and transport all the captured oil.
Mr. Waite continued, "We are excited about the opportunity to represent the inventors and this unique technology that makes oil drilling in sensitive areas a lot more environmentally friendly, and we will now begin socializing the invention with the industry and start discussions around regional and global licensing, investment, joint venture and acquisition opportunities."
InventionShare provides inventors with funding, talent, expert processes to accelerate innovation, patent creation and monetization. Respecting that each of our inventors is the architect and the mastermind behind the invention, we work with our inventors in a professional manner as partners helping them take their inventions to market.
For more information, contact Kensel J. Tracy V. P. Invention Catalyst
ktracy at inventionshare.com 613-225-7236 Ext 116