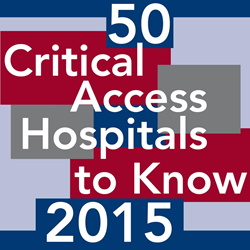 Providing quality healthcare in a rural setting presents its own set of specific challenges, but these organizations are rising above to meet the needs of their patients.
Chicago, IL (PRWEB) August 19, 2015
This list features critical access hospitals that have demonstrated excellence in caring for their communities. Providing quality healthcare in a rural setting presents its own set of specific challenges, but these organizations are rising above to meet the needs of their patients.
The Becker's Hospital Review editorial team selected hospitals for inclusion based on awards and recognitions they have received. Specifically, the team looked at iVantage Health Analytics' list of Top 100 Critical Access Hospitals, the National Rural Health Association's list of Top 20 Critical Access Hospitals, patient satisfaction scores from CMS' Hospital Compare and various Healthgrades awards.
The "50 Critical Access Hospitals to Know" 2015 list includes the following hospitals:
Abraham Lincoln Memorial Hospital (Lincoln, Ill.)
Aspirus Grand View Hospital (Ironwood, Mich.)
Avera Holy Family Hospital (Estherville, Iowa)
Barrett Memorial Hospital (Dillon, Mont.)
Boone County Health Center (Albion, Neb.)
Brodstone Memorial Hospital (Superior, Neb.)
Calumet Medical Center (Chilton, Wis.)
Cherry County Hospital (Valentine, Neb.)
CHI St. Joseph's Health (Park Rapids, Minn.)
Community Hospital of Anaconda (Mont.)
Cottage Grove (Ore.) Community Medical Center
Elizabethtown (N.Y.) Community Hospital
Fairview Hospital (Great Barrington, Mass.)
Gibson General Hospital (Princeton, Ind.)
Grant Regional Health Center (Lancaster, Wis.)
Hammond-Henry Hospital (Geneseo, Ill.)
Hegg Memorial Health Center Avera (Rock Valley, Iowa)
Hudson (Wis.) Hospital
Kittitas Valley Health Hospital (Ellensburg, Wash.)
Madison (S.D.) Community Hospital
Magruder Hospital (Port Clinton, Ohio)
Martha's Vineyard Hospital (Oak Bluffs, Mass.)
Mayo Clinic Health System-Red Cedar (Menomonie, Wis.)
Memorial Health Care Systems (Seward, Neb.)
Millinocket (Maine) Regional Hospital
Ministry Door County Medical Center (Sturgeon Bay, Wis.)
Mount Desert Island Hospital (Bar Island, Maine)
Myrtue Medical Center (Harlan, Iowa)
New Ulm (Minn.) Medical Center
Orange City (Iowa) Area Health System
Perry County Memorial Hospital (Perryville, Mo.)
Phillips County Memorial Hospital (Malta, Mont.)
Pike County Memorial Hospital (Louisiana, Mo.)
Providence Hood River (Ore.) Memorial Hospital
Shenandoah (Iowa) Medical Center
Sparrow Clinton Hospital (St. Johns, Mich.)
Speare Memorial Hospital (Plymouth, N.H.)
St. Mary's Hospital and Clinics (Cottonwood, Idaho)
Steele Memorial Medical Center (Salmon, Idaho)
Redington-Fairview General Hospital (Skowhegan, Maine)
Richland Hospital (Richland Center, Wis.)
River Falls (Wis.) Area Hospital
Tahoe Forest Hospital (Truckee, Calif.)
Transylvania Regional Hospital (Brevard, N.C.)
University Hospitals Geneva (Ohio) Medical Center
Waldo County General Hospital (Belfast, Maine)
West River Regional Medical Center (Hettinger, N.D.)
Whitman Hospital and Medical Center (Colfax, Wash.)
Winneshiek Medical Center (Decorah, Iowa)
Yoakum (Texas) Community Hospital
The full list can be read here: http://www.beckershospitalreview.com/lists/50-critical-access-hospitals-2015.html?utm_source=PR&utm_medium=Vocus&utm_campaign=Critical_Access_Hospitals_2015
Note: This list is not an endorsement of included hospitals, health systems or associated healthcare providers, and organizations cannot pay for inclusion on this list. Hospitals are presented in alphabetical order.
Sponsored by: athenahealth
athenahealth delivers cloud-based HIS solutions ideal for rural, community and critical access hospitals, helping them thrive through change and focus on patient care. Recognized as an industry leader, athenahealth received five 2013 Best in KLAS awards, including #1 Overall Software Vendor and #1 Patient Portal. Unlike conventional health IT systems, athenahealth combines cloud-based software, networked knowledge and back-office services to keep more than 62,000 providers prepared for industry change—everything from Meaningful Use to value-based payment models. Cloud-based software is continually updated at no extra charge, with a single version available to all providers at once, ensuring physician alignment across the care continuum. athenahealth alleviates administrative burden by taking on paperwork, tracking claims, managing pre-registration and more. With athenahealth as a partner, practices and hospitals are well-equipped to thrive today and in an uncertain future.
About Becker's Hospital Review
Becker's Hospital Review is a monthly publication offering up-to-date business and legal news and analysis relating to hospitals and health systems. Content is geared toward high-level hospital leaders, and we work to provide valuable content, including hospital and health system news, best practices and legal guidance specifically for these decision-makers. Each issue of Becker's Hospital Review reaches more than 18,000 people, primarily acute-care hospital CEOs, CFOs and CIOs.
###