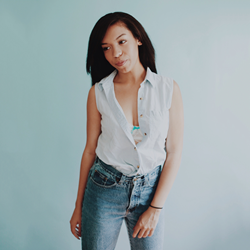 I never really thought about TIME Magazine ever looking at my work, or even knowing I was alive. I'm still kind of shocked, but I'm also really honored that such an institution noticed and appreciated my work
Oklahoma City, Oklahoma (PRWEB) August 20, 2015
High Five Media's photographer, Jonathan Burkhart, was part of TIME Magazine's top 50 Instagram Photographers to Follow for his excellence in social media and photography. The list includes one photographer for each state, with Burkhart representing Oklahoma. Burkhart is a Choctaw, Okla. native, one of ten siblings and has over 55K followers on Instagram. As a photographer for marketing company, High Five Media, Burkhart is able to expand his photographic portfolio.
"I never really thought about TIME Magazine ever looking at my work, or even knowing I was alive," said Burkhart. "I'm still kind of shocked, but I'm also really honored that such an institution noticed and appreciated my work."
Burkhart began working for High Five Media in May 2015 and takes photographs for both the company's magazine, Linked, and for clients. On Instagram, his specialties are portraits and landscape, though at High Five he is able to expand his repertoire to include food photography, business photography and videography.
"At High Five Media, I'm able to continue working and growing as a photographer," said Burkhart. "I'm able to have freedom to express my creativity and vision."
"Jonathan is awesome," said Earle Haggard, partner at High Five Media. "He captures things on his camera that others standing beside him are unable to see. His talent far exceeds his experience and his age. I am so proud of him not only for accomplishing this honor from TIME magazine, but also for the humility that he possesses all the while. We feel so fortunate to have Jonathan as a member of our High Five team."
About High Five Media
High Five Media is a marketing company in Edmond, Okla., that produces six hyper-local magazines dedicated to covering events in the following areas: Moore West, Norman West, Choctaw, Harrah, North Edmond, Quail Springs and Deer Creek. High Five Media is also dedicated to meeting the marketing needs of its clients through face-to-face service and resources such as social media management, web design, video production and photography.