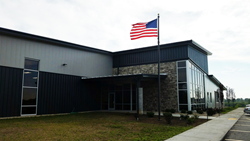 Our new facility focuses on both collaboration and security
SUN PRAIRIE, WI (PRWEB) August 21, 2015
InForm Product Development has relocated to 1869 Haynes Drive, Sun Prairie, WI 53590 in the Sun Prairie Business Park. The 28,400 square foot corporate office has been specifically designed to better serve customers' development needs. The new facility will provide a functional and comfortable work environment for employees and promote working collaboratively with clients while maintaining confidentiality and security of intellectual property.
"Our new facility focuses on both collaboration and security", says Ed Raleigh, President of InForm Product Development. "The inspiration for the building came from Thomas Edison's Menlo Park as well as his Orange, New Jersey facilities. Edison's vision for his company was to create an environment where his engineers and scientists could all work together and collaborate for the rapid invention of new products without interruptions from visitors." Raleigh also emphasized the new facility's enhanced access structure. "Security is of the utmost importance at InForm. We've developed a tiered security protocol mimicking defense contractors' increased security levels as you go deeper into the building. This allows highly confidential and proprietary information to remain undisclosed."
About InForm Product Development
InForm Product Development is a product design consulting firm founded in 1995. The company provides industrial design, software/UX, mechanical/electrical engineering, and prototyping services to companies in a variety of industries, including commercial, industrial, medical and military. The company's client base consists of more than 250 customers ranging from both coasts of the United States, as well as international customers in Sweden, Germany, and the Czech Republic. The company is currently located in the Sun Prairie Business Park (since 2000), and has 29 employees. Inc. magazine included InForm Product Development as part of its seventh annual Inc. 500|5000, an exclusive ranking of the nation's fastest-growing private companies for 2015. The list represents the most comprehensive look at the most important segment of the economy—America's independent entrepreneurs. They were also identified by Inc. as a Top 100 Engineering Company and a Top 100 Wisconsin Company.
For more information, visit: http://www.in-form.com/.