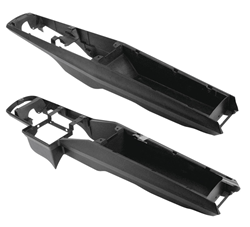 Seal Beach, California (PRWEB) August 20, 2015
Original Parts Group, Inc. (OPGI), the industry's leading supplier and manufacturer of restoration and high-performance parts for classic GM cars, is pleased to announce the availability of reproduction center console bases for 1966-67 Chevelles and El Caminos. Each OPGI shifter console base is an exact factory reproduction that meets or exceeds all OEM specifications for fit, finish and functionality.
OPGI's precisely reproduced injection-molded 1966-67 Chevelle and El Camino console bases are available for both 4-speeds and automatics. Each console base has the correct mounting bosses, grain pattern and the exact contours and curves of the original factory equipment. Specify part number 9507993 for Chevelles and El Caminos with 4-speed transmissions. Part number 9507992 fits automatic transmission equipped models. Console part number 9507993 is currently on sale for $199.99 each and console part number 9507993 is $218.49. OPGI also stocks doors, top plates, shift indicators, hinges, and lamps to fit 1966-67 Chevelle and El Camino consoles. Console wiring extension harnesses, mounting brackets and complete center console replacement kits are available for column-to-floor shift console conversions. All OPGI Chevelle and El Camino console components can be ordered by phone, mail order or online.
Celebrating over 33 years of manufacturing and retailing the highest quality restoration parts and accessories, OPGI is recognized as the nation's number one supplier and manufacturer of classic GM parts and is committed to maintaining that reputation and serving the needs of its customers for years to come. For more information, visit OPGI.com or call toll free: 1-800-243-8355.