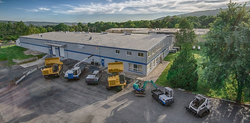 "Expansion such as this is a direct result of our customer's continued loyalty to the Summit brand."
Asbury, New Jersey (PRWEB) August 20, 2015
The company, which supplies rubber tracks and undercarriage parts to the construction equipment industry, has been in business more than 30 years, and has a sound reputation supplying parts for Bobcat, Caterpillar, John Deere, Kubota, Case, Takeuchi, Gehl, and Mustang. The Dallas distribution center is the third location for Summit Supply, which is headquartered in Asbury, New Jersey and already operates a branch in Seattle, Washington.
"To expand our exceptional customer service, we have now opened our Dallas distribution center. This will greatly benefit our customers in the Midwest who will have reduced downtime and lower shipping costs. Expansion such as this is a direct result of our customers' continued loyalty to the Summit brand. We hope to further our growth and look forward to future announcements as additional locations are opened in the coming 12 months," says Ken Druckenmiller, Executive Director of Marketing Communications.
The Seattle branch opened in 2013, in response to customer demand for quicker delivery times and greater access to Summit's products. Likewise, the Texas location will allow customers in the Midwest region to receive their orders even quicker and at much more affordable cost - while experiencing less down time for their equipment.
Summit Supply uses the latest technology to provide products that are high in both quality and performance, and guaranteed to fit the equipment. The company stocks rubber tracks made with the perfect blend of virgin natural and synthetic rubber, and does not use recycled products. Made with Continuous Steel Cord (CSC) technology that is designed by Summit Supply's engineers, the rubber tracks are the strongest in the industry and work with over 8,000 makes and models of rubber tracked machines.
About the Company:
Summit Supply, LLC (http://www.summitrubbertracks.com) was formed in 2004 as a partner company to Multi Machine Inc. which was established in 1982. Over the past three decades, the company has built a solid reputation for top quality, right fit, longevity, huge inventory, and unmatched customer service. Our factory makes rubber tracks with the right mix of virgin natural and synthetic rubber for flexibility and durability, as well as continuous wound steel cords which make them the strongest in the industry. In recent years, Summit has added undercarriage parts (sprockets, rollers, and idlers) for many makes and models of machines, in addition to solid tires and rubber pads for steel tracked machines.
(All manufacturer names are registered trademarks)