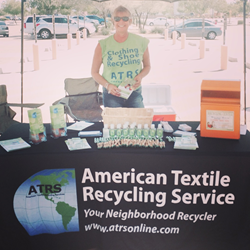 "About 7 Weldon House mothers were on site throughout the 2-day event. Attendees get to meet the people who their donations are benefitting and really see beyond the bin to learn who ATRS is and the good we can do with help from our communities."
Phoenix, AZ (PRWEB) August 21, 2015
As Back to School shopping season continues with tax free weekends, promotions and big discounts nationwide, the Val Vista location of Kohl's has pledged a greener shopping experience for customers as they scoop up the latest trends and fall fashions.
Kohl's at Val Vista has joined the annual Shop&Recycle Campaign, sponsored by American Textile Recycling Service (ATRS), to provide easy, convenient drop off destinations for gently used, out of season, unwanted clothing, shoes and team wear while shopping for new gear. Shoppers at Kohl's were encouraged to bring backpacks and other clothing donations to support children in residence at the Weldon House in Phoenix.
Approximately 1000 shoppers stopped by to show support during a two-day clothing donation drive and to learn more about the partnership between ATRS, Kohl's and the Weldon House. Over 500 lbs. of recyclables were donated by attendees and many gently used backpacks were collected for Back To School.
Every pound of donations collected at Kohl's was weighed and sorted by ATRS in its Phoenix facility and raised much-needed funds for the Weldon House. All the donated backpacks were given directly to children at Weldon House to help them prepare for their 2015 school year.
"Several Weldon House mothers were on site throughout the two-day event and that's what makes this promotion so special, says Debra Buckner, lead ATRS employee and longtime Phoenix resident. "Shoppers get to meet the women and children that benefit directly from their donations and really see beyond the bin. We are so proud of all the good we can do with help from our communities."
Sponsored by American Textile Recycling Service (ATRS), the annual campaign to Shop&Recycle aims to educate shoppers about the importance of recycling during one of the highest spending seasons of the year and shop sustainably in the communities where we all live, work, shop and play. Kohl's ran a nationwide campaign for all shoppers who spent $50 or more in store were awarded $10 in Kohl's Cash, this promotion in conjunction with the sustainability initiative of ATRS Recycling created an atmosphere of sustainability, social responsibility and savings for Shop&Recycle 2015.
The Weldon House also received a $500 donation directly from the Kohl's store to assist with their mission to to help women who faced barriers in leaving abusive relationships, sustaining recovery from drug addiction and alcoholism, obtaining adequate housing, and finding jobs that provided a livable wage. To learn more about the items accepted in ATRS Clothing & Shoe Recycling bins or find a drop off location near you to support the Weldon House, please visit the ATRS website or call the 24-Hr Hotline 866-900-9308.
American Textile Recycling Service (ATRS) is the nation's fastest growing textile recycler and a leading member of the S.M.A.R.T. Association. Its socially responsible business model provides free textile recycling solutions for the public, job stimulation worldwide and much-needed funding for worthy local charities. Easy, convenient ATRS Recyclers are available throughout Phoenix, Scottsdale, Tempe and Tucson AZ, Michigan, San Antonio, Austin, Dallas, Houston, Galveston and Beaumont TX, Nashville, Florida, Tennessee, Atlanta, Oklahoma, Colorado and Southern California. For media inquires contact pr (at) atrsonline (dot)com.