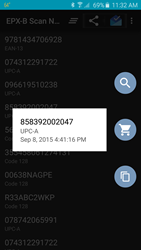 Our flexible scanning approach is winning clients like Cassens' Transport.
Harmony, PA (PRWEB) September 16, 2015
SDG Systems, a leader in system and application software integration for Android on enterprise hardware, has recently added support for Google Mobile Vision barcode scanning to its EPX-Barcode Scanning Core software package. EPX-Barcode Core 3 now uses the Mobile Vision Barcode API for barcode scanning when Google Play Services 7.8 or higher is installed. For Android AOSP, or when older versions of Play Services are installed, EPX-Barcode Core uses libraries from the ZXing project. EPX-Barcode Core version 3 is available in the Google Play store free of charge.
Using the EPX-Barcode API, a programmer may retrieve the barcode data from the Google Mobile Vision (GMV) decoder. GMV can detect and decode barcodes of the following formats, or symbologies:

1D barcodes: EAN-13, EAN-8, UPC-A, UPC-E, Code-39, Code-93, Code-128, ITF, Codabar
2D barcodes: QR Code, Data Matrix, PDF-417
The EPX-Barcode API remains unchanged, and the EPX-Barcode software solution continues to support a wide variety of hardware scan engines from Symbol (Zebra), Intermec, Honeywell and Code Corporation. The EPX-Barcode SDK is available as a free download for developers.
This release of EPX-Barcode includes other enhancements. To enhance the speed of scanning multiple barcodes, the EPX-Barcode Settings app allows the user to set the camera scanning in "batch mode". The app also has a touch-to-focus mode (by setting autofocus to Off), which prevents the camera from attempting to automatically re-focus between scans. When used in conjunction with SDG Systems' Barcode List Manager (Barliman) app, batch mode and touch-to-focus can quickly create a list of barcodes to share with others.
The Scan Now application, part of EPX-Barcode Core, has been enhanced to scan to a list that can be shared (CSV) or processed with web search, shopping or copied to the clipboard. Scan Now offers the ability to stay resident in the Android notification area for quick access to initiating new scans.
"SDG Systems continues to offer a wide variety of barcode scanning options for Android," said Todd Blumer, President. "Our flexible scanning approach is winning clients like Cassens' Transport, who is deploying well over a thousand Diamondback N7 barcode sleds using Symbol scan engines and our EPX software."
"The functionality and flexibility offered by SDG's EPX barcode scanning software has enabled us to efficiently deploy our Nexus tablets and Diamondback barcode scanning sleds," said Paul Falbe, Director of IS at Cassens' Transport. "We were able to deploy our hardware in waves without modifying the application. When the sleds are not available or broken, the drivers can effectively use the device camera for scanning."
In addition to the Mobile Vision support, SDG Systems enhanced the Symbol Native API (SNAPI) support. The device driver now supports image capture using imaging-capable Symbol scanners. Image capture can be useful for recording proof of delivery, signature capture, healthcare ID cards, drivers' licenses and more. Contact SDG Systems for more information about this feature and a sample application. The updated driver also supports the Symbol CR0078-P presentation cradle for use with the DS6878 or LI4278 Bluetooth scanners, offering full control of the scanner.
SDG charges a license fee for the EPX-Barcode device drivers that support USB hardware scanners or for integration into enterprise devices or kiosks. EPX can be easily integrated into vertical market solutions in healthcare, hospitality, retail, or other markets.
About SDG Systems
SDG Systems builds data collection software and offers professional software development services for Android systems. Other services include system integration, OS porting, application development and training. SDG also sells and supports hardware platforms that may be used in creating vertical market solutions. SDG is a leader in the implementation of Google Android solutions on rugged and embedded devices since 2009 and has been developing and supporting Linux system and application software since 2001.