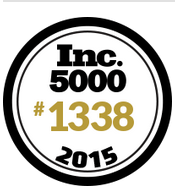 This is an honor and a positive nod from IT professionals that we are providing them tools they need for network visibility.
Buffalo, NY (PRWEB) August 20, 2015
Making network connections is paying off for Buffalo-based network TAP manufacturer, Garland Technology.
Garland Technology placed 1338 out of 5000 for its first-time listing in the Inc. 5000 list since the company's inception in 2011. Headquartered in Buffalo, New York the company has experienced a 310% 3-year financial growth and has created 25 jobs worldwide.
"This is an honor and a positive nod from IT professionals that we are providing them tools they need for network visibility." explains Chris Bihary, CEO/Co-Founder of Garland Technology. "Every organization needs to fortify their network's monitoring and security systems. My company's network TAPs and packet brokers are the physical connection between these tools and the live network data. Garland's devices are state-of-the-art, made in the USA and deliver to the IT community exactly what they need: 100% network visibility."
Founded in 2011, Chris Bihary, CEO and Jerry Dillard, CTO, co-founders of Garland Technology came together to offer the IT community a network visibility solution that could be 100% reliable to feed the ever expanding network monitoring and security appliances organizations are adding to the IT infrastructure. These appliances are only as good as the data they receive and with increasing cyber attacks, 100% visibility is required. Both Bihary and Dillard designed and manufactured a full line of network access hardware from simple plug and play portable network TAPs to highly configurable filtering, aggregating, and load balancing products.
"We are planning for aggressive growth in 2016, both domestically and worldwide." continues Bihary, "Our new 40G Bi-Directional Bypass TAP is cutting edge technology that the Cisco community requested and we delivered. We are also seeing many network upgrades from 1G to 10G and 10G to 40G, with the larger data centers, there are even some 40G to 100G projects in the works. All of these big data networks require our 100% network visibility solution."
Bihary concluded, "It's gratifying to all of us at Garland Technology to see our growth strategies recognized. Our goal is to continue to climb the list, while always providing our customers the network access devices they need to see every bit, byte, and packet."
About Garland Technology
Garland Technology manufacturers US-made network access hardware which provides the physical connection between the live network and the security and monitoring tools IT professionals rely on. Garland technology offers a full line of network access products including, network TAPs that support aggregation, regeneration, bypass and breakout modes; and packet brokering products. For more information, visit http://www.garlandtechnology.com.