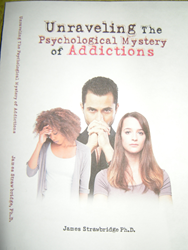 Boynton Beach, FL. (PRWEB) August 28, 2015
Drugs and alcohol abuse by employees is creating problems for businesses nationwide. Addictions specialist, Dr. James Strawbridge, gives a new approach on solutions in his new book ":Unraveling The Psychological Mystery of Addictions." Strawbridge believes that it should begin with the employer and employees getting together for meaningful group meetings. "This would educate the employees on not only possible causes for substance abuse, but ways to treat it," advises Strawbridge.
One of the leading causes is stress, according to the book. The various ways to treat it are discussed.
During an employee meeting, the effect of substance abuse on both the business and the employees shows that it causes health insurance and workers compensation premiums to increase and more absenteeism.
Dr. Strawbridge points out the various ways the abuser can be helped. Not only are there support groups like Alcoholics Anonymous, but counseling to employees. Often the best help can come from intervention sessions with family members and friends.