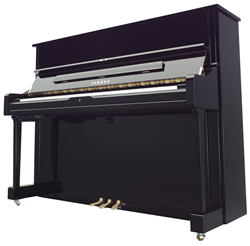 BUENA PARK, Calif. (PRWEB) August 21, 2015
With back-to-school in mind—the peak season when parents make purchasing decisions on musical instruments for their children—Yamaha Corporation of America is running the Yamaha Upright Piano Promotion (YUPP) so that participating dealers nationwide can offer significant savings to consumers on upright pianos.
Yamaha is extending great incentives to dealers on its critically acclaimed line of upright pianos, including the popular U1, the line of Silent Uprights, the U1 TransAcoustic Upright and the groundbreaking NU1 Hybrid Upright. Dealers can then pass these savings on to customers. With the school season and start of music lessons on the horizon, there is no better time to take advantage of these offers and bring a beautiful, new Yamaha upright piano into the home.
The Yamaha U1 acoustic upright offers unmatched craftsmanship that provides consistency in sound quality, responsiveness and performance. Also included in YUPP is the U1 TransAcoustic Upright—a new breed of musical instrument that uses all elements of the acoustic piano to augment digitally generated sounds in full range, without the use of traditional speakers and amps. The full line of Silent Uprights, which allow players of all levels to practice in silent mode so as not to disturb others in a home setting, are being incentivized as well.
The NU1, part of Yamaha's exclusive and innovative series of Hybrid Pianos, combines the sound and feel of an acoustic instrument with digital technology. These Yamaha instruments, which are the only real Hybrid Pianos on the market, were recently praised by the New York Times for bringing "the beauty, clarity and expressiveness of real pianos into the digital age."
Yamaha's hybrid pianos digitally simulate the sound, as well as the physical experience of playing a fine $125,000 acoustic concert grand piano at a fraction of the cost, size and weight. They are defined by the integration of sound sampled from Yamaha's finest CFIIIS and CFX concert grand pianos, with an authentic acoustic piano action and natural wood keys that will satisfy the most discerning musicians. In addition, these pianos can be played at any volume or silently through headphones and never require tuning.
Yamaha has the right product for any family looking for a sound piano investment. For more information about the savings available through YUPP, contact a local Yamaha piano dealer, or visit http://www.4wrd.it/yupp2015
-END-
About Yamaha
Yamaha Corporation of America (YCA) is one of the largest subsidiaries of Yamaha Corporation, Japan and offers a full line of award-winning musical instruments, sound reinforcement and home entertainment products to the U.S. market. Products include: Yamaha acoustic, digital and hybrid pianos, portable keyboards, guitars, acoustic and electronic drums, band and orchestral instruments, marching percussion products, synthesizers, professional digital and analog audio equipment, Steinberg recording products and Nexo commercial audio products, as well as AV receivers, amplifiers, Blu-ray/CD players, iPod docking systems, home-theater-in-a-box systems and its exclusive line of Digital Sound Projectors. YCA markets innovative, finely crafted technology and entertainment products and musical instruments targeted to the hobbyist, education, worship, professional music, installation and consumer markets.