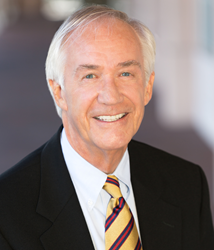 Boca Raton, FL (PRWEB) August 25, 2015
Bauman Medical, the world's largest stand-alone hair transplant and hair loss treatment center, is pleased to announce the appointment of Mike Greene, a talented senior executive and military veteran with more than 36 years of business leadership experience, as Chief Operating Officer (COO).
"Mike has a long-standing and successful business track record in leadership, operations, strategy and marketing—we are very fortunate to have found someone with Mike's breadth and depth of business knowledge and experience to help us craft, execute and accelerate our aggressive growth plans with optimum efficiency and careful thoughtfulness," said Alan J. Bauman, M.D., founder and medical director of Bauman Medical. "Over the next few years, Mike's leadership will be a key part of the process as we continue to expand our portfolio of hair science services, products and brands that together further enhance and strengthen our position as the top luxury-market patient-centered destination for proven and effective medical and cosmetic anti-aging hair and scalp solutions and services."
"I am excited and delighted to be joining Dr. Bauman and his Bauman Medical team of professionals. This highly progressive organization is on the forefront of hair restoration for men and women," Greene said. "I believe the Bauman Medical team is on the verge of catapulting itself to increasing levels of success and growth, and I am both excited and eager to apply my management and operational skills and experience to help the management team attain the organization's aggressive business goals while staying true to their core values and commitments to patients and business partners."
In his new role, Greene will oversee Bauman Medical's current daily operations and strategic planning. He will also assist the company as it expands into new areas, such as trichology treatments and medical grade hair replacement systems, all while continuing product testing and consulting for Fortune 500s, educational offerings, Bauman-branded product development, pro-bono work, charitable giving and more. The company recently acquired and expanded to a new 11,000-square foot treatment facility in Boca Raton, making it the world's largest dedicated hair transplant and hair loss treatment center. It also launched "salonB" in-house this summer, with an exclusive partnership with internationally renowned trichology and CNC medical-grade hair replacement system pioneer Cesare Ragazzi Laboratories of Italy to make these advanced treatments and services available in Florida and around the United States.
For the last two decades, Greene has served as principal of Taunton Hill Consultants, where he's provided management consulting services to national and South Florida-based companies. He most recently served as COO of award-winning Spodak Dental in Delray Beach and is currently a member of the board of directors of the Delray Beach Chamber of Commerce. Greene previously served as vice president/director of advertising for Bank of America, senior vice president and director of The Mutual of Omaha Companies, senior vice president of J. Walter Thompson Worldwide and other top-rated companies. He's also a former assistant professor of advertising at the University of Nebraska and former adjunct professor at San Francisco State University. Greene is a military veteran, having served as an officer and naval aviator with the United States Marine Corps. He also holds an MBA from the prestigious University of Pennsylvania Wharton Graduate School of Business.
About Bauman Medical:
Headquartered in sunny Boca Raton, Florida since 1997, the Bauman Medical Hair Transplant and Hair Loss Treatment Center is the world's largest stand-alone medical clinic dedicated exclusively to helping patients maintain, enhance and restore their own living and growing hair. The impressive spa-like 11,000 square foot facility offers a full array of leading-edge medical and proven alternative therapies for men and women suffering from hair loss, thinning or other common hair and scalp issues. Treatments and procedures range from minimally invasive FUE hair transplants (including eyelash, eyebrow and body hair transplants) to low level laser therapy, platelet-rich plasma or PRP, FDA-approved and specially compounded pharmaceuticals (finasteride, dutasteride, minoxidil, prostaglandin analogues) for hair regrowth, trichology scalp and hair treatments, nutritionals and therapeutic hair care products in addition to high-end Italian-made medical-grade scalp prosthetic and hair replacement systems.
The center was founded in 1997 by Alan J. Bauman, M.D., one of the world's leading experts in hair loss, hair science and scalp health. Dr. Bauman has treated over 17,000 male and female patients and performed over 7,000 surgical procedures. He is board-certified by the American and International Board of Hair Restoration Surgery, a Fellow of the International Society of Hair Restoration Surgery and recommended by the American Hair Loss Association. Dr. Bauman also played a key role in the early research, consumer testing and global launch of Pantene's AgeDefy Advanced Hair Thickening Treatment and served on the prestigious Pantene Hair Research Institute. Dr. Bauman is a Trustee member and a past recipient of the Small Business Leader of the Year Award from the Greater Boca Raton Chamber of Commerce. In addition to operating Bauman Medical and teaching and consulting internationally, Dr. Bauman personally treats patients at his facility in Boca Raton, Florida. For more information visit http://www.baumanmedical.com