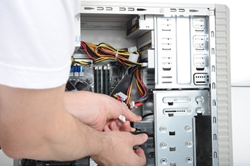 Norcross, GA (PRWEB) August 24, 2015
Ashworth College (http://www.ashworthcollege.edu) has added the Computer Service and Repair course to its roster of career-based education programs that provide the opportunity to obtain industry certification. This updated and expanded program adds to the school's collection of vocational diplomas that emphasize focused workplace knowledge and skills, and it expands Ashworth's efforts to provide nationally recognized certification upon graduation.
Personal computers and work stations in the office are essential for interacting with the world around us at home and the workplace. Personal computer service technicians perform the maintenance and repair to the hardware and software systems that allow us to work productively and stay connected in our personal lives.
Ashworth's program, updated by the school's courseware development team in collaboration with experienced subject specialists, provides students with the fundamental knowledge, theory, and industry-acknowledged practices used to install, manage, and maintain various types of personal computing devices. Students learn diagnostic and troubleshooting techniques needed to identify and correct common malfunctions and system errors. The program covers all major hardware systems and common peripheral devices, as well as detailed coverage of Windows-based operating systems. It also includes mobile devices and their integration into the workplace. The program content is aligned to the CompTIA 2012 A+ 220-801 and 220-802 Certification exams.
Graduates receive a career diploma upon successful completion of the program as well as the opportunity to obtain the nationally recognized A+ certification, issued by CompTIA. A voucher to take the 220-801 and 220-802 exams is provided at no additional charge to students who complete the program.
"Computer repair instruction has been part of our school's catalog since the beginning of the PC era," said Rob Klapper, President of Ashworth College. "While the devices and specific technology continues to evolve, the need for skilled technicians trained to industry standards will always remain. A focused instructional program like Computer Service and Repair will give graduates confidence because it's comprehensive and based on CompTIA's industry-respected standards."
"We continue to see that adult learners want the quality and flexibility that the Ashworth instructional model provides, but they also see the need to add credentials in the form of certification that employers and clients recognize immediately," Klapper added. "When we see the opportunity to offer students training and certification in one convenient and affordable package, we know that graduates can't help but benefit. The completion of our program, along with the recommended 6-12 months of workplace experience, will position graduates nicely to become A+ Certified."
Expanding on the benefits that this program offers graduates, Klapper noted that the U.S. Department of Labor predicts a 4% increase in demand for computer repair technicians through 2022. He also emphasized the value to technicians who are already part of the industry. "What's most exciting about partnering with CompTIA is their proven results of helping technicians get promotions and higher salaries when they become A+ certified," Klapper said.
Bryan Kenna, who oversees curriculum development for Ashworth College, was pleased with the modifications his team contributed to the updated Computer Repair program. "Our design goals included the expansion of the instructional objectives to combine both the hardware and software elements of computer service. We wanted a comprehensive package that gives students educational content that is mapped to the specific domains of both A+ exams," Kenna said.
"Our team did an excellent job of combining published materials that have a long association with CompTIA with the proven features of the Ashworth student experience. This program can help graduates get certified and start or expand their career," Kenna added.
Ashworth College is a nationally accredited online learning institution offering career diploma, professional certification, and degree programs that are affordable, flexible, and 100% self-paced. Based in Georgia, Ashworth promises a quality education on your terms in the fields of health, business, technology, education, the arts, and skilled trades. Ashworth serves the educational needs of working adults, including the U.S. military and veterans, corporate partners, and homeschoolers. Tuition fits within the student's budget and all programs are designed to fulfill personal and professional goals.
CompTIA is the voice of the world's information technology (IT) industry. As a nonprofit trade association, CompTIA advances the global interests of IT professionals and IT channel organizations and enables them to be more successful with industry-leading IT certifications and IT business credentials, IT education, and IT resources, and provides the ability to connect with like-minded, leading IT industry experts.