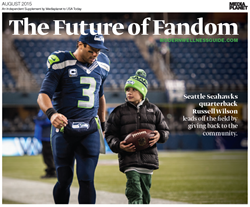 I just try to put my best foot forward and try to change the world in some way every day
New York, NY (PRWEB) August 28, 2015
Mediaplanet today announces distribution of the fourth edition of "Future of Fandom," a cross-platform campaign dedicated to highlighting the people who matter most in sports: the fans. With a focus on technology, apparel and food, this campaign highlights the latest developments revolutionizing the fan experience at home and on the road.
The campaign features an exclusive editorial with Russell Wilson (Quarterback of the Seattle Seahawks, Super Bowl Champion, philanthropist), whose story is featured as the cover of the print publication. He opens up with Mediaplanet about his foundation and his personal mission to empower personal change one individual at a time, as well as his contributions to Make-A-Wish with Brayden Ramus.
"I just try to put my best foot forward and try to change the world in some way every day," said Wilson, who spends his off days during the season visiting patients at Seattle Children's Hospital. "And try to make an effect on somebody and help somebody every day."
The print component of "Future Fandom" is distributed within this weekend's edition of USA Today with a circulation of approximately 250,000 copies and an estimated readership of 750,000 million. The digital component is distributed nationally, through a vast social media strategy, and across a network of top news sites and partner outlets. To explore the digital version of the campaign, click here.
This campaign was made possible with the support of the National BBQ Association, Seattle Seahawks RotoGrinders, Digital Trends, Pro Football's Ultimate Fan Association, Fan Duel, DISH Network, Pepperidge Farm, Cheerwine, Ventura Foods, Cuce Shoes, GoSun Solar Grills, The Ultimate Fan, Stuart Meyer, Karl Sides, Joe Cahn, Suzanne Lavender and many more.
About Mediaplanet
Mediaplanet is the leading independent publisher of content-marketing campaigns covering a variety of topics and industries. We turn consumer interest into action by providing readers with motivational editorial, pairing it with relevant advertisers, and distributing it within top newspapers and online platforms around the world.