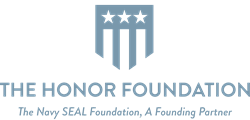 SAN DIEGO, CA
(August 19, 2015) (PRWEB) August 19, 2015 -- The Honor Foundation, a non-profit organization dedicated to empowering members of the Navy SEAL and Special Operations Forces community who are transitioning into civilian lives, announced today that it has been awarded the largest grant to be given by The Navy SEAL Foundation in its 15-year history. This $2 million grant will fund world-class programs focused on professional development, formal education, and transition resources for those in the Navy SEAL and Naval Special Warfare community.
In celebrating the grant, The Honor Foundation's founder and CEO, Joe Musselman, commented, "We're honored to receive such tremendous support from The Navy SEAL Foundation for the first professional development and transition institute for the Navy SEAL, Naval Special Warfare, and Special Operations Forces communities. Our government has spent billions training and educating these service men and women. They are among the most competent and technically trained workforce on the planet and deserve a world-class experience throughout and after their military career. This $2 million Founding Partner Grant will help to ensure they thrive in their post-military missions."
By 2018, The Honor Foundation will have transitioned over six-hundred U.S. Navy SEALs into the private sector through a three-month comprehensive program. With the help of tech leaders in Silicon Valley, The Honor Foundation will also create a much-needed online interactive mentorship network and a first-of-its-kind virtual professional development institute for our nation's elite military professionals. By 2020, The Honor Foundation will have designed a new eco-system of mentor support and business network for this deserving community totaling in the thousands. This network will include top MBA faculty, industry experts, business leaders, entrepreneurs, and former Honor Foundation alumni within roles across the globe.
One Honor Foundation fellow shared that "The Navy SEAL Foundation served me and my family in critical ways while I was active duty. Then, as I approached transition, I felt like I was in free-fall. The programs and people surrounding The Honor Foundation are exceptional and it was entirely tailored for me. Their career coaches, advisors, faculty, and staff were able to guide me through their process and put me and my family back in control. As a result of their process and program, I start my new role inside of Airbnb as the Lead Partner in Trust and Safety, North America. I couldn't see a more complementary partnership between these two organizations, and I know the Navy SEAL Foundation's support will help take The Honor Foundation to the next level of scale in order to reach all my Teammates."
As a Founding Partner of The Honor Foundation, The Navy SEAL Foundation is continuing its mission of supporting and empowering active duty Naval Special Warfare service members. This partnership was established to increase the operational readiness of the force, while also supporting Special Operations Forces community retention through professional development that supports the eventual positive transition of its members. As a vital connection for the Special Operations Forces community to transition services, the partnership between the two foundations will deepen the understanding of the needs and concerns of the Naval Special Warfare community.
"We're thrilled to be able to support The Honor Foundation in the important work that they do," said Robin King, CEO of The Navy SEAL Foundation. "There has long been a serious need for the process and programs they provide our SEALs and Naval Special Warfare community—They're able to pick up where we leave off in our service to them, and help empower a seamless and successful transition into the civilian work force, while preserving and refining the incredible skill set these SEALs and Naval Special Warfare gain while active duty."
About The Honor Foundation
The Honor Foundation provides executive education, professional development, career coaching, and transition management to US Special Operations Forces. As the creators of the first transition institute for the US Special Operations Forces (SOF) community, The Honor Foundation collaborates closely with the Special Operations Forces community, top business schools and America's finest companies in order to support veterans from the Naval Special Warfare (NSW) community as they move into the next phase of their careers.
The leader within its space, in 2012 The Honor Foundation identified the need for a transition program that is tailored to the experience levels and skill set of those in the Special Operations Forces military who were seeking their next great adventure in the private sector. The Honor Foundation's founder, Joe Musselman, interviewed over two-hundred Navy SEALs in 2013 who had recently transitioned into the private sector. He discovered that the most pressing need reported by this group study was professional development and transition. Due to the nature of their workup and deployment schedule, of the group surveyed, less than thirteen-percent had job offers on the table by their end of service date. Recognizing this critical need, The Honor Foundation created the first Professional Development and Transition Institute for the US Special Operations Forces community by collaborating closely with its members, America's finest companies, top business schools, and leading entrepreneurs in order to create a new community post the community for our nation's elite.
Full details are available at http://www.thehonorfoundation.org.
About The Navy SEAL Foundation
The Navy SEAL Foundation provides immediate and ongoing support and assistance to the Naval Special Warfare Community and its families. Established to serve U.S. Navy SEALs, Special Warfare Combatant-craft Crewmen, Naval Special Warfare (NSW) support personnel, and their families, the Navy SEAL Foundation is a resolute cornerstone for the Naval Special Warfare community and their families in times of adversity and triumph. The organization focuses on a comprehensive set of programs designed to improve health and welfare, bui
ld and enhance resiliency, empower and educate their families, and provide critical support during times of illness, injury, and loss.