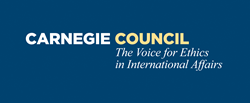 Speakers at Carnegie Council events are prominent people in the world of international affairs, from acclaimed authors, to Nobel laureates, to high-ranking UN and NATO officials.
(PRWEB) August 31, 2015
Carnegie Council for Ethics in International Affairs kicks off its fall season with a host of exciting and timely events on global issues, from Russia's soft power to Pope Francis' power struggle within the Vatican.
Attend in person, or watch the Council's live webcasts.
For the full calendar, go to http://www.carnegiecouncil.org/calendar/upcoming.html
Unless otherwise mentioned, all events take place at Carnegie Council's headquarters at 170 East 64th Street, New York, NY 10065.
Registration is required for all events.
September 10, 2015. HDCA Conference: Capabilities on the Move: Mobility and Aspirations
(Washington, D.C.)
The 2015 Human Development & Capability Association Program Committee cordially invites scholars, government policy makers, practitioners, and other interested parties from all over the world to participate in this conference, which is co-sponsored by Carnegie Council.
September 10, 2015. Russia's Soft Power: A Matter for Church and State
Nikolas K. Gvosdev, Nadieszda Kizenko, Nicolai N. Petro
In the current frigid environment of U.S.-Russia relations, there is much debate over Russia's legitimate strategic interests. Of equal importance for understanding Russian attitudes is a grasp of the values, the moral framework for her foreign policy. Three leading experts on Russia's "soft power" will explain the roles of the state and the Russian Orthodox Church in formulating this framework of values.
September 13-15, 2015. International New York Times Athens Democracy Forum
(Athens, Greece).
Carnegie Council for Ethics Affairs is proud to be a co-sponsor of this important INYT Forum. Coinciding with UN International Democracy Day, the Athens Democracy Forum will convene diplomats, scholars, corporate executives, politicians, government ministers, experts, and journalists from around the world.
September 18, 2015. Is the Eurozone Crisis Over?
Martin Wolf
The eurozone economy is at last beginning to recover, including the crisis-hit countries, except for Greece. But all of the crisis-hit countries have suffered at least a lost decade. Are they now at least securely on the mend? Is the new Greek programme going to work? Has the eurozone been adequately reformed?
September 28, 2015. NATO in the 21st Century: Addressing New and Urgent Challenges
Douglas E. Lute
As recent events indicate, Russia sees NATO as the top threat to Russian interests and has called for increased investment of its naval forces in the Black Sea; Turkey is under siege by ISIS; Libya is unstable and extremism in Iraq and Syria is on the rise. How will NATO address Russian aggression in the Ukraine and in the Baltic Sea? Will NATO also be drawn into the Middle East conflict?
September 30, 2015. Pope Francis Among the Wolves: The Inside Story of a Revolution
Marco Politi
There's no doubt that Pope Francis has changed the tone of the papacy. He's accessible and energetic, where his predecessor seemed reclusive and tired. But in becoming the face of change, Francis has also raised the expectation of change. Will Pope Francis succeed in overcoming his opponents and save the faith from decline?
Founded by Andrew Carnegie in 1914, Carnegie Council for Ethics in International Affairs is an educational, nonprofit, nonpartisan organization that produces lectures, publications, and multimedia materials on the ethical challenges of living in a globalized world. For more information, go to http://www.carnegiecouncil.org.