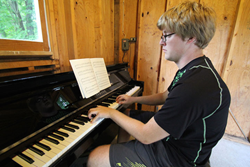 "The addition of Disklavier and hybrid technology throughout our campus has proven to be extremely valuable as a teaching tool, and as a means to address the . . . challenging weather environment," said Hilary Respass, Executive Director, BUTI.
LENOX, Mass. (PRWEB) August 19, 2015
Boston University Tanglewood Institute (BUTI) is partnering with Yamaha Corporation of America and Falcetti Music to provide a unique boost to the intensive music education that gifted young students are getting this summer at the prestigious program.
High school aged musicians attending BUTI, internationally recognized as one of the premier summer training programs for pre-college musicians, are able to learn and perform on new Yamaha NU1 and N2 hybrid pianos on loan from Falcetti Music, as well as tap into Yamaha's state-of-the-art technology that bolsters music education and performance capabilities.
"Our mission was two-fold in providing instruments and support for the Boston University Tanglewood Institute," said Dan Rodowicz, Institutional Channel Manager, Yamaha Corporation of America. "We set out to meet the unique needs of the campus in the Berkshires, which is especially challenging given the uncontrolled environmental conditions that wreak havoc on traditional acoustic pianos used each summer. And just as important, we wanted BUTI students to benefit from the amazing advanced learning made possible by groundbreaking Yamaha hybrid pianos and the Disklavier reproducing piano."
BUTI Executive Director Hilary Respass said the Yamaha instruments and technology in place this summer at BUTI are making a phenomenal difference for the program, whether it's students learning on the Disklavier or capturing their scales on the NU1s and N2s via flash drives that can be reviewed later with their instructor.
 "The Yamaha instruments are fulfilling our needs far beyond the concert hall," Respass said. "We have several beautiful Yamaha instruments on loan in our performance venues and main teaching areas, which is very important to us as a base-line, but the addition of Disklavier and hybrid technology throughout our campus has proven to be extremely valuable as a teaching tool, and as a means to address the challenges of being in an incredibly beautiful, but volatile and challenging weather environment."
Respass said that students and teachers alike, including Boaz Sharon, Chair of Piano at Boston University and Director of the Young Artists Piano Program at BUTI, have praised the instruments and related technology for taking music education to the next level at BUTI this summer.
"We are so pleased to be partnering with Yamaha and Falcetti Music who, over the past year, have shared invaluable information, expertise and support in helping us explore how Yamaha instruments and their technology can not only strengthen what we do from a teaching perspective, but also can give our students tools to deepen their learning and growth in the classroom, on their own in the practice room, and beyond," Respass said. "Yamaha has played an integral role in supporting our vision to be a premiere summer training program that is built on tradition, but uses cutting-edge technology to advance the next generation of artistry that develops here."
Bringing acoustic pianos from Boston University to spend the summer in the hot, humid conditions at Tanglewood, including in the rustic practice sheds that are spread across the 64-acre bucolic campus in Lenox, annually created a strain not only on the instruments but also on the piano technicians trying to keep the pianos tuned and the BUTI budget intact. These problems have been alleviated this summer by equipping each practice shed with the Yamaha NU1 uprights and N2 AvantGrands, remarkable hybrid pianos that recreate the physical and aural experience of playing a fine acoustic piano by utilizing a real acoustic piano action to digitally reproduce the sound of a 9-foot Yamaha concert grand piano, with no tuning required. These instruments provide the benefits of technology and playability at a fraction of the cost, size, weight and maintenance.
Also on loan through the collaborative efforts of Falcetti Music and Yamaha are a DC7X concert grand for BUTI's primary performance space, a CF6 grand, a U1TA TransAcoustic piano and a Yamaha DCFX Disklavier piano in the primary piano teaching space.
Students are expected to take full advantage of the technology found in the DCFX, Yamaha's flagship concert grand piano capable of meticulously capturing a piano performance, then playing it back note-for-note, with all the sensitivity and nuance of the original performance.
Boaz Sharon, director of the Young Artists Piano Program, said playing on these Yamaha instruments is an invaluable part of a successful BUTI experience for students. "Over the last seven years, our Young Artists Piano Program included some of the finest pianistic talents from around the U.S., Germany, Russia, Israel, South Korea, China and other countries," Sharon said. "Our young pianists, many of whom go on to continue their studies in the leading conservatories and universities in the U.S., benefit enormously by practicing and performing on the Yamaha pianos, which make it possible for them to achieve high pianistic technique and expression."
As part of the partnership between Yamaha and BUTI this summer, BUTI hosted a special event on August 11 with Yamaha Artist Frederic Chiu, recognized as one of the most eclectic and imaginative pianists in the world. Chiu taught an afternoon master class as part of BUTI's Young Artists Piano Program. At the end of the class, he performed a 30-minute recital, including a collection of transcriptions of works by Bach, Prokofiev (Chiu) and Beethoven (Liszt). For more information about Boston University Tanglewood Institute, visit http://www.bu.edu/tanglewood.
Additional information about Yamaha Corporation of America is available at http://4wrd.it/YAMAHAUSA.
-END-
About Yamaha
Yamaha Corporation of America (YCA) is one of the largest subsidiaries of Yamaha Corporation, Japan and offers a full line of award-winning musical instruments, sound reinforcement and home entertainment products to the U.S. market. Products include: Yamaha acoustic, digital and hybrid pianos, portable keyboards, guitars, acoustic and electronic drums, band and orchestral instruments, marching percussion products, synthesizers, professional digital and analog audio equipment, Steinberg recording products and Nexo commercial audio products, as well as AV receivers, amplifiers, Blu-ray/CD players, iPod docking systems, home-theater-in-a-box systems and its exclusive line of Digital Sound Projectors. YCA markets innovative, finely crafted technology and entertainment products and musical instruments targeted to the hobbyist, education, worship, professional music, installation and consumer markets.