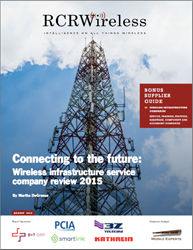 [Carriers] have important choices to make: focus on adding sites or adding equipment to existing sites? - Marta DeGrasse, report author
Austin, Texas (PRWEB) August 20, 2015
RCR Wireless News release a new report that takes an inside look at the wireless infrastructure industry and how it plays an increasingly important role in the U.S. economy.
Towers, radios and antennas make mobile communication possible, and as mobile communication becomes vital to almost every business, wireless infrastructure is recognized as a backbone of the U.S. economy. 'Connecting to the Future' is a complimentary report that offers an inside look at the process of wireless infrastructure deployment through conversations with tower company executives, equipment makers and infrastructure service providers.
Questions addressed in this report include:

How do the major wireless carriers differ in their approaches to building and maintaining their networks?
Why are carriers selling their towers, and what does this mean for the infrastructure services industry?
How has the industry improved its safety record? Is this a fundamental shift or a temporary trend?
What do tower company executives and equipment makers expect from the carriers in terms of capital spending in the months ahead?
How is the growing demand for small cell solutions changing business models and hiring practices?
Report author Martha DeGrasse interviewed the CEOs of Crown Castle, SBA Communications, PCIA, FDH Velocitel and Mobile Experts, as well as executives from Ericsson, Nokia, Black & Veatch, Vertical Bridge, Velarity, B+T Group, Smartlink, Kathrein and 3Z Telecom. She found widespread agreement that despite a recent slowdown in carrier spending, the future is bright for this industry.
"Carriers will build out their networks in order to deploy recently acquired spectrum," said DeGrasse. "But they have important choices to make. Some will focus on adding sites or adding equipment to existing sites, while others may choose to densify their networks by adding small cells in select locations."
Analyst Joe Madden of Mobile Experts thinks that carrier spending on small cells and distributed antenna systems will approach spending on the macro networks within three to four years. Infrastructure service providers agree that spending on these solutions will increase, but do not yet see huge levels of activity from the carriers. Some are seeing interest from third parties who are willing to finance all or part of an in-building network, which means that companies in this space are talking to new customers and exploring new business models.
Accompanying Webinar:
This report is accompanied by a complimentary webinar featuring analyst Joe Madden of Mobile Experts, Jason Campbell of Smartlink, Alan Jones of C Spire Wireless and Martha DeGrasse of RCR Wireless News.
Bonus Section: Antenna Deployment
LTE is increasing the number of antennas atop cell towers, and the complexity of antenna deployment is also increasing. This report includes a bonus section on trends in antenna technology and best practices for deployment.
Click here to download Connecting to the Future: Wireless Infrastructure Service Company Review.
About RCR Wireless News
Since 1982, RCR Wireless News has been providing wireless and mobile industry news, insights, and analysis to industry and enterprise professionals, decision makers, policy makers, analysts and investors. Our mission is to connect, globally and locally, mobile technology professionals and companies online, in person, and now on video. Our dedication to editorial excellence coupled with one of the industry's most comprehensive industry databases and digital networks leads readers and advertisers to consistently choose RCR Wireless News over other industry publications. http://www.rcrwireless.com