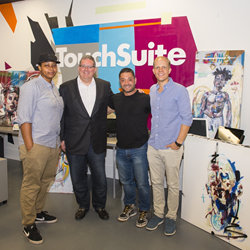 ...this new developers space is just one example of how we attempt to provide a positive and inspiring environment in which they can flourish and start turning out disruptive technology.
Boca Raton, Florida (PRWEB) August 19, 2015
Leading U.S. financial technology company TouchSuite has announced that it now employs 81 people out of its South Florida headquarters- a 42% growth from its 2012's total of just 36 employees. The news of its latest expansion came during a press reveal of its new modern and artistic workspace, designed specifically to accommodate its rapidly growing team of developers.
The announcement also emphasized TouchSuite's dedication to the South Florida community, acknowledging its important regional hiring partners and educational institutions, including the Miami-based independent coding school, Wyncode. Wyncode's co-founder and president, Juha Mikkola, spoke about their partnership with TouchSuite in its recruitment of the school's talented graduates. Mikkola also discussed Wyncode's progressive approach to technology education, providing impressive statistics on the school's recruitment rate.
"We at TouchSuite have experienced tremendous success over the past several years, which we attribute in no small part to our emphasis on recruitment and hiring the absolute best people in their respective fields," said TouchSuite founder and CEO Sam Zietz. "We are very fortunate that so much talent exists right here in South Florida, thanks to partners like Wyncode and our area universities, and this new developers space is just one example of how we attempt to provide a positive and inspiring environment in which they can flourish and start turning out disruptive technology."
"One of the reasons why South Florida was recently named the country's second leading start-up community is because of the kind of innovation we see at our Pitch Days," said Juha Mikkola, co-founder of Wyncode. "Students at Wyncode are not just learning how to code, they're being paired with potential employers, meeting investors, and often launching businesses in our classrooms. We can't wait to see what this talented group of Wyncoders has in store for Pitch Day VI!"
Created by local artist Elizabeth "Melo" Hutchinson, the customized developers space was created based on the vision of the teams' leaders, TouchSuite's Chief Products Officer Farshad Tafazzoli, who envisioned a workspace that mirrored his Fort Lauderdale neighborhood, FAT Village (Flagler Arts & Technology). This vision required an artist whose esthetic would best represent FAT's urban-industrial, high-energy streetscape, which is how Melo was commissioned to create the space. With Farshad's direction, Melo focused solely on the room's walls, keeping the floors and ceilings solid colors and ensuring each wall's mural maintained a different style and theme. As a result, the eclectic collection of urban-inspired mural work has created a positive, energetic and inspiring environment for TouchSuite's growing team of talented developers.
TouchSuite's fast growth and escalating success is acknowledged regularly on a national scale. Just last week, TouchSuite was ranked #160 on the Inc. 500 list of fastest growing private companies in the U.S., marking the company's 3rd year in a row on the prestigious list and a drastic rise up from its 2014 ranking of #259. TouchSuite was also named the fastest growing privately held company in South Florida in 2014, as well as the fastest growing technology company in the entire state, by the Business Journals of Florida. Zietz was personally recognized this year as the winner of EY's Entrepreneur of the Year award for Florida and was named one of South Florida's Ultimate CEOs in 2014 by the South Florida Business Journal. The company was also presented with the Governor's Business Ambassador award last year during a press conference at its headquarters with Governor Scott himself.
About TouchSuite: TouchSuite is one of America's leading technology companies focused on the electronic payment space. Its award-winning, patented point of sale systems are fully integrated with payment processing and credit card services catering to restaurants, salons and spas. The systems are designed to help small- and medium-size merchants increase revenue by using the provided tools and solutions. The company's latest salon POS system, Firefly, offers the most advanced salon software on the market to-date, including full mobile capabilities. TouchSuite's sales infrastructure provides merchants and agents with an unprecedented 24/7 support system and ensures a positive user experience. TouchSuite is headquartered in Boca Raton, FL. For additional information about TouchSuite, please visit http://www.touchsuite.com.