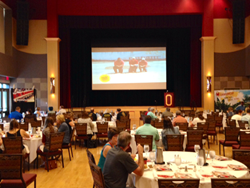 Our goal is to reinvigorate the independent business spirit and provide insight into what's new and what's working in coffee shop operations. - Greg Ubert
Columbus, Ohio (PRWEB) August 19, 2015
Columbus coffee roaster Crimson Cup Coffee & Tea recently celebrated its annual Independents Day, which draws independent coffee house owners from across the country. On Saturday, August 1, more than 40 coffee house owners and baristas gathered at Ohio State University's Student Union in Columbus, Ohio for a full day of programming about the latest trends in specialty coffee.
"Independents Day gives coffee house owners a way to connect, engage and grow with other coffee entrepreneurs," said Crimson Cup Founder and President Greg Ubert. "Our goal is to reinvigorate the independent business spirit and provide insight into what's new and what's working in coffee shop operations."
The conference featured presentation by coffee house owners and Crimson Cup team members on developments in the coffee industry, craft coffees, new brewing methods and beverages, and coffee-house marketing and operations.
The day kicked off with an update from Ubert on Crimson Cup's growth and innovations, including the January opening of its new 20,000-square-foot roasting headquarters, current construction of a state-of-the-art innovation and training laboratory, and recent opening of its first international coffee house in Bangladesh.
Next, Coffee Buyers Dave Eldridge and Brandon Bir shared anecdotes about recent travels to Guatemala, Honduras, Mexico, Nicaragua and Peru. Over the past year, they have traveled more than 10,000 miles to meet small-plot coffee farmers and find new coffees for Crimson Cup's Friend2Farmer direct trade program.
During the break, attendees sampled Crimson Cup's latest micro-lots of Ethiopian coffees prepared using hand-pour methods and as Nitro cold brew.
Crimson Cup staff then led a two-hour presentation on coffee shop business planning. Customer Growth Specialists Jeremy Lowe and Jim Alley demonstrated methods for sales forecasting and they shared strategies to maximize profits and minimize waste.
Bir led the group through an interactive coffee cocktail training course to teach owners how to create new, profitable drinks for the menu. Featured cocktails included lavender, chamomile and pure cane sugar. These cocktails are currently prepared at the Crimson Cup Coffee Houses in Clintonville and Upper Arlington. All attendees received a free Crimson Cup Shaker to begin creating their own custom cocktail drinks.
After lunch, 7 Steps Trainer Steve Bayless showed attendees how to create an annual coffee shop training plan.
Marketing Director Melissa Rogner then led presentations on mapping an annual marketing plan and innovations in driving sales and social awareness.
The day wrapped up with a question-and-answer period, during which coffee shop owners and Crimson Cup staff shared successes, problems and solutions.
The annual conference is just one of the benefits provided through Crimson Cup's Seven Steps coffee franchise alternative program. Based on Ubert's book, Seven Steps to Success in the Specialty Coffee Industry, the program teaches everything an entrepreneur needs to run a specialty coffee business. The book includes a coffee shop business plan template, and Crimson Cup consultants assist customers with creating customized business plans.
"We offer everything a coffee shop franchise does – and more – but without franchise fees, royalties or business restrictions," Ubert said. "Our program covers all the bases, from choosing a location to hiring and training your staff, writing a coffee shop business plan and much more. Plus, we offer ongoing support to make sure our customers keep growing."
In client surveys, Crimson Cup has found that 85 percent of coffee-shop customers completing its Seven Steps to Success training program have been in business for five years or longer. By comparison, federal government statistics show that two of every three new restaurants – including independent coffee shops – close within three years of opening.
"We're proud to support over 250 coffee shop owners across the country," Ubert said. "In the past year alone, a dozen independent coffee houses have joined our community."
To learn more about Crimson Cup's Seven Steps program or to schedule an initial consultation, call 888-800-9224 or visit the Crimson Cup website.
About Crimson Cup Coffee & Tea
Founded in 1991, Crimson Cup Coffee & Tea is a leading Columbus, Ohio coffee roaster offering handcrafted, sustainably sourced specialty coffee. The company also teaches entrepreneurs to run successful coffee houses through its coffee franchise alternative program, which includes a coffee shop business plan. Crimson Cup coffee is available through a community of more than 350 independent coffee houses, grocers, college and universities, restaurants and food service operations across 29 states, Guam and Bangladesh, as well as the company's own Crimson Cup Coffee Houses. To learn more, visit crimsoncup.com.