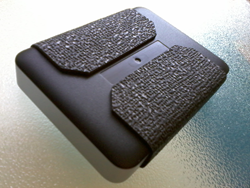 Extreme Grip Pad
New York, NY (PRWEB) August 20, 2015
GripIT - Hard Drive Grip Pad redesigns its grip pad mounting methods to provide three ways to protect external hard drives. The new methods also include an extreme mount onto any surface. These Grip Pads hold up to a 45 degree angle, removable and reusable to work anywhere.
1. Open Wrap Style: NEW
Two Grip Pads, Semi-Wrapped around the hard drive, provide a better grip on handling the drive and allows more air flow to keep it cooler. The Grip Pads are Slip-Resistant and Hold the drive up to 45 degrees.
2. Extreme Mount: NEW
Use the Open Wrap Style & Convert (flip open) the Grip Pads under the drive to mount onto Any Surface Anywhere!
3. Undercover Style:
Single Grip Pad adheres to the bottom of the hard drive, providing a Slip-Resistant Hold up to a 45 degree angle.
GripIT - Hard Drive Grip Pad: Packaged 2 Grip Pads per pack, Reusable & Non-Residue. Easily Cuts to Any Size. Works with all Hard Drives, and other devices such as: Smartphones, Tablets, Cases and on the bottom of any Device.
EXTREME GripIT Technology:
Unique Interior Material: A breathable foam that Cools, Cushions and reduces Impact & Vibration.
Outer Grip Pad Surface: Bonded onto the interior foam, a thin coating of a special Slip-Resistant rubber with a unique pattern holds the drive up to a 45 degree angle on all surfaces.
Pricing and Availability
GripIT - Hard Drive GRIP PAD, Now Available in the GripIT store at Amazon and at B&H Photo in NYC.
Manufacturer's Suggested Retail Price (MSRP) of $8.99 with a Retail Sales Price of $5.99 plus an Educational & Student Discount of $4.99 at Amazon.com.
About GripIT
GripIT, an ERGO Solutions Company, is an innovator in storage and device protection, producing reliable and dependable protection products for all portable devices. GripIT provides easy solutions, allowing people around the world to protect their devices. GripIT was established in 2013 and is headquartered in New York. For more information, please visit the company's website at http://www.ExtremeGripIT.com.
Copyright (C) 2015 GripIT, an ERGO Solutions Company, All Rights Reserved.