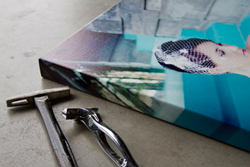 We feel that by making this change there is a greater opportunity to put this custom fine art product in the reach of anyone who values quality over cheaply made similar products made by some of our competitors
Round Rock, TX (PRWEB) August 20, 2015
Canvas Press, a leader in printing museum quality custom photos on canvas, has reduced their pricing. This marks the first time since the company began in 2006 that pricing on canvas prints has been dramatically reduced.
The pricing change affects both custom and standard canvas print sizes and includes each of the four options Canvas Press offers (.75", 1.5", 2" and non-stretched canvas prints). Canvas Press owner, Doak Walker, on the price reduction, "We feel that by making this change there is a greater opportunity to put this custom fine art product in the reach of anyone who values quality over cheaply made similar products made by some of our competitors."
Canvas Press customers can expect to see up to twenty five percent lower prices on their canvas product. "Our goal has always been to deliver a high quality, American made product to our customers. We understand that we weren't the cheapest option out there for putting a family photo on canvas, but our new pricing will change that dramatically," states Eric Von Lehmden, Director of Marketing for Canvas Press.
Although their pricing has gone down, President Doak Walker promises that no corners are being cut on quality. He states, "The only change in what we are doing is the pricing. Everything else is staying the same." Walker continues, "Our customers will still be getting fine art printing on quality canvas that is stretched by hand. We are proud to be a made in the USA brand and we don't want any of that to change."
A custom canvas print ordered from Canvas Press is printed, stretched and shipped directly from their facility in Round Rock, TX. Turnaround times for a typical order is two business days from the time an order is placed to the time it gets shipped.
Interested in learning more about Canvas Press and their products? You can visit them at http://www.canvaspress.com. They welcome phone calls if you have questions on how to get your photos printed on canvas. Their number is 888.784.5553.